Today, iQOO mobile phone officially announced that the iQOO 7 launch conference will be held on January 11, 2021, at 19:30.
At the same time, Antutu also found a new Vivo model "V2049A" in their database. Judging from the configuration, it could be the upcoming iQOO 7.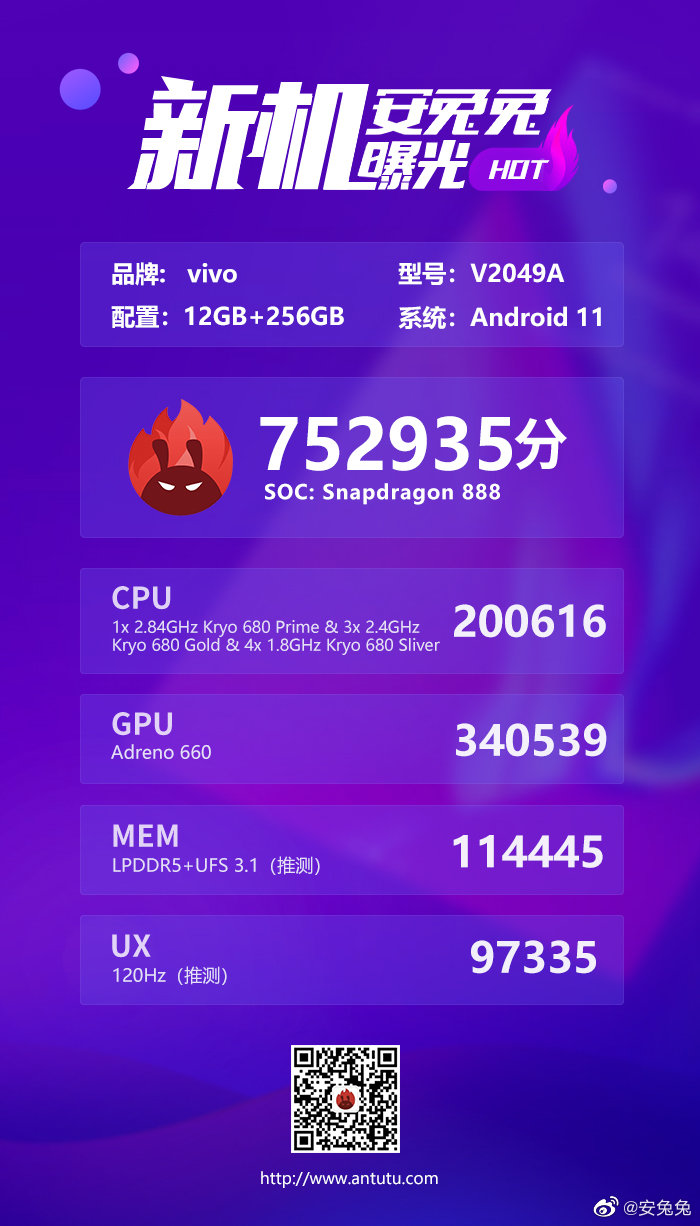 In terms of configuration, AnTuTu recognizes that the new phone uses a 2400×1080 resolution display, built-in 12GB memory, and 256GB storage space, and is equipped with the latest Snapdragon 888 mobile platform.
In terms of running points, the current score reported by the Antutu backstage is 752,935 points, which has exceeded the points of the Snapdragon 888 reference prototype announced by Qualcomm.
The CPU score is 200616 points, the GPU score is 340539 points, the MEM score is 114445 points, and the UX score is 97335 points.
Among them, the performance of the GPU is very eye-catching, about 20,000 points higher than the performance of the Qualcomm Snapdragon 888 reference prototype, which means that iQOO 7 is very good in terms of heat dissipation design, which will help liberate more of the potential of Adreno 660 GPU.
It should be noted that the current results detected should still come from the engineering prototype. At present, this news has also been officially confirmed by the iQOO mobile phone. V2049A is the upcoming iQOO 7.