First, remove the screws that secure the bottom cover, and then remove the bottom cover. After removing the bottom cover, we can access most of the internal components of Dell Precision 7750. At the same time, you can also upgrade the memory, SSD, or add or add SIM Card and WWAN module. There is no extra empty space inside, the space utilization rate is extremely high, and various expansion interfaces are also readily available.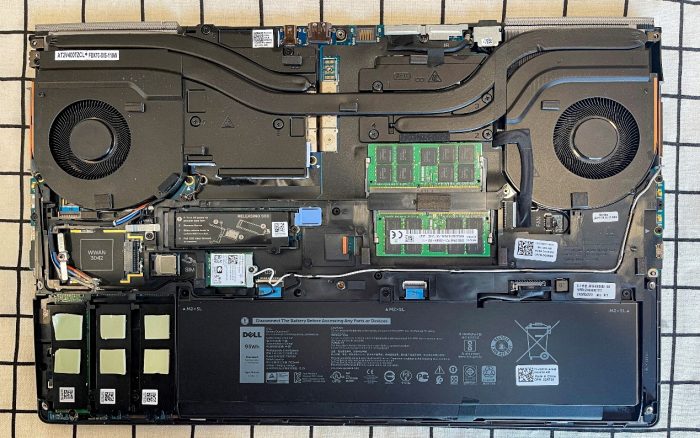 Although the size of the battery module is small, the battery capacity of the Dell Precision 7750 is not small. It has a 95Wh battery to ensure that it can continue to work for a period of time in case of power failure. Using PCMark10, the brightness is 50%, and wireless connections such as Wi-Fi are turned off. In the test mode of a modern office, Dell Precision 7750 can work for 5 hours.

There are 3 M.2 slots next to the battery, which can provide enough storage space. In my case, the workstation only carries a Hynix 512GB PC601A NVMe SSD, and there is a thermal conductive layer is set at the position corresponding to the 3 SSD slot on the bottom cover, which can ensure that the temperature of the SSD is not too high during work.

In AS SSD Benchmark, the continuous read speed is 2836MB/s, and the continuous write speed is 738MB/s. Random read speed is 43.62MB/s, random write speed is 110.78MB/s.
In CrystalDiskMark, the continuous read speed is 3200MB/s, and the continuous write speed is 2669MB/s. The random read speed is 48.47MB/s, and the random write speed is 144.7MB/s.
This workstation has an AX201NGW wireless network card, supports Wi-Fi 6 wireless network, supports up to 120MHz frequency band, and can reach a speed of 2401Mbps. There is another M.2 slot above the wireless network card, but it is not occupied.

On the left of the wireless network card, there are slots for the SIM card and WWAN card. After plugging in, you can use the mobile network when going out.

The Precision 7750 has a total of four memory slots. Two memory slots can be seen after removing the back cover. The other two slots are on the other side of the motherboard, which is under the keyboard. The workstation we received is equipped with four 32GB 2667MHz DDR4 memory with a total memory capacity of 128GB.