This is a brand new heatsink and CPU fan for Dell XPS 13 9300 and Dell XPS 13 9310. it is compatible with part numbers 0G4WF7, 0FRK0V, and 0WX28K.
You can buy the complete assembly with heatsink or buy the fan separately. You can see the options in the drop-down menu.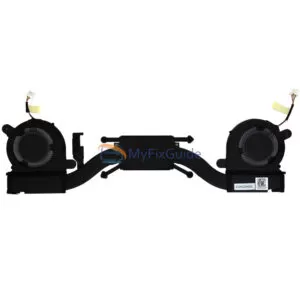 P/N:0G4WF7, 0FRK0V, 0WX28K
Features:
1. This is a 100% CPU + GPU fan with heatsink.
2. This fan has 4 wires leading to the connector which attaches to the motherboard.
Specifications:
Input: DC5V
Output: 0.27A
Condition: brand new
Warranty: One (1) Year
Heatsink Fan for Dell XPS 13 9300 9310 0G4WF7 0FRK0V 0WX28K Tips:
1. Please remove the existing fan from your laptop to compare the part number, photo, and description.
2. To replace the fan, you have to remove the bottom cover and remove the battery from your laptop.
3. Disconnect the fan cable from the motherboard and loosen the screws that secure the heatsink and fan to the laptop.
4. Please note that after removing the old fan, please use a cleaning cloth to remove the thermal grease on the CPU and GPU. This is to better improve the thermal conductivity.