LeEco Le Pro 3 comes with a unibody metal design. The Le Pro 3 features a 5.5-inch full HD (1080p) display covered with a 2.5D glass and is powered by Qualcomm's Snapdragon 821 quad-core processor clocked at 2.35GHz paired with 4GB/6GB of RAM. It comes with 32GB/64GB of onboard storage options. On the photography a 16-megapixel rear camera and an 8-megapixel selfie camera. Other connectivity options like dual-SIM card slots, 4G LTE support, Wi-Fi, GPS and Bluetooth. On the software front, it runs on Android 6.0.1 Marshmallow OS based on eUI 5.8 custom UI.
Teardown is what we do! Follow us on Facebook for the latest repair news.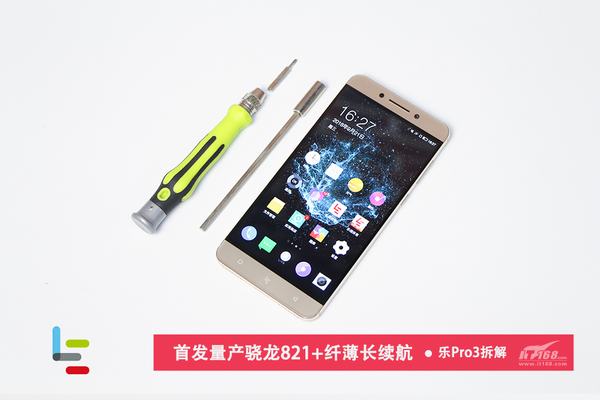 Remove the SIM card tray.
The SIM card tray with a "T" shape, it can be installed two Nano SIM cards.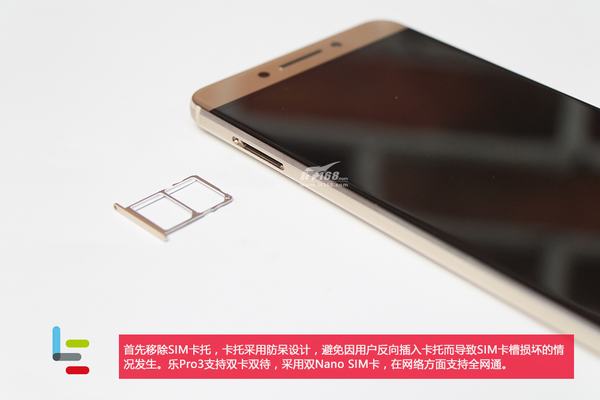 In order to remove the display assembly, we need to heat up the display edges with a heat gun.
Open up the display assembly a little bit with a suction cup, at the same time, insert a guitar pick and slide it along the edges to take off the display.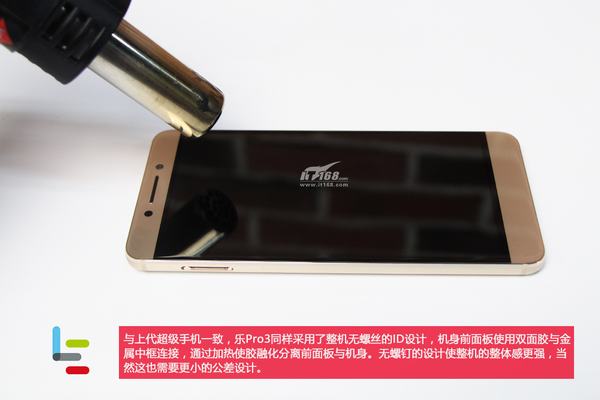 Be careful. The touch cable is still connecting to the motherboard.
Remove two screws securing the metal plate. You will be able to disconnect the cable.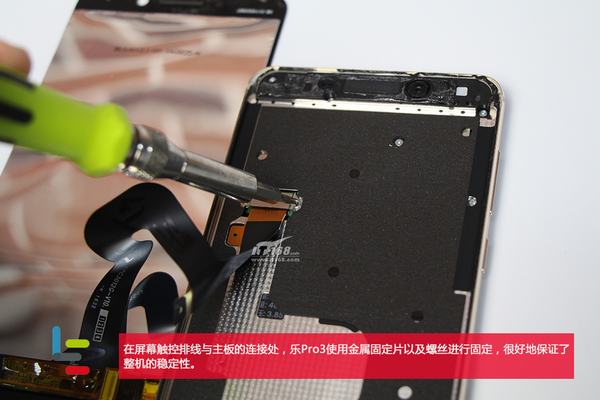 Here's LeEco Le Pro3 display assembly.
LeEco Le Pro3 features a 5.5-inch full HD (1080p) display, and the touch chip comes from Synaptics, the model is S3320A.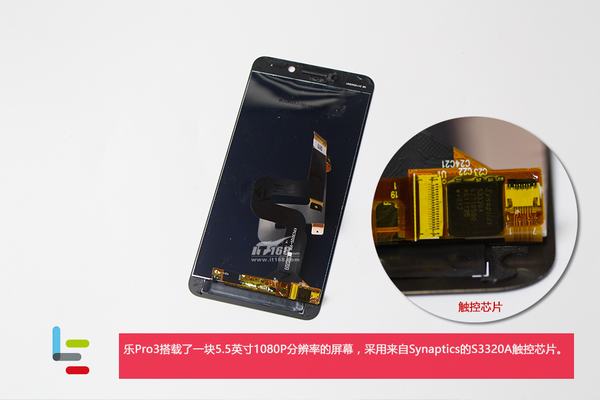 Under the screen, there is a metal plate, used to isolate the screen and the fuselage, the metal plate covered with a layer of thermal insulation foam. It is used to reduce influenced to the display by the internal temperature.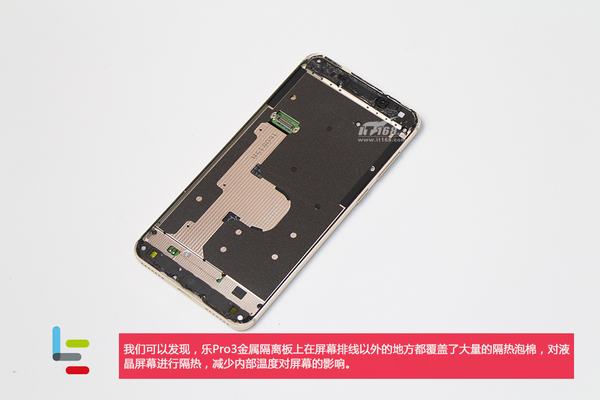 Remove all screws securing the metal plate.
There is a screw is covering by fragile stickers. If you damage it, you will void the warranty.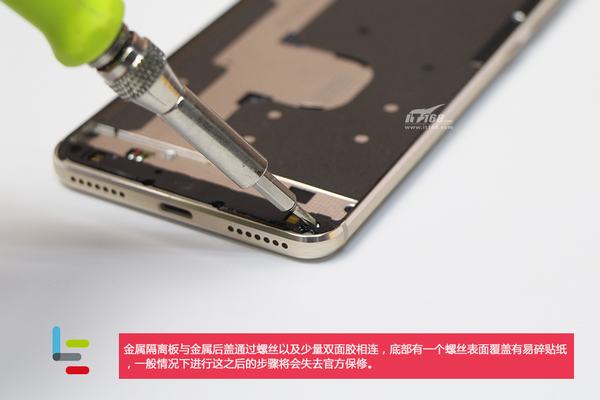 Here's the metal plate.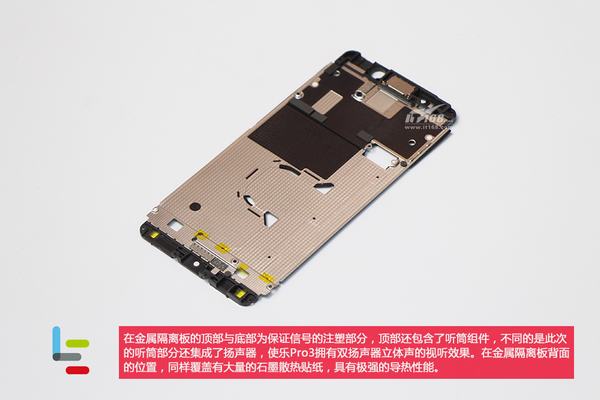 With the metal plate removed, you can get access to the battery, camera, speaker and motherboard.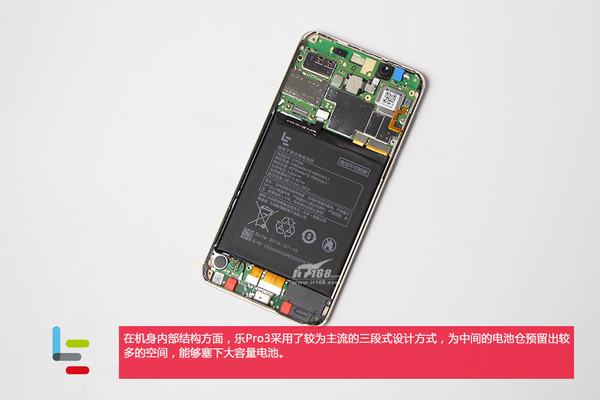 Disconnect the battery connector from the motherboard.
Pull out two adhesive tapes. The battery can be removed.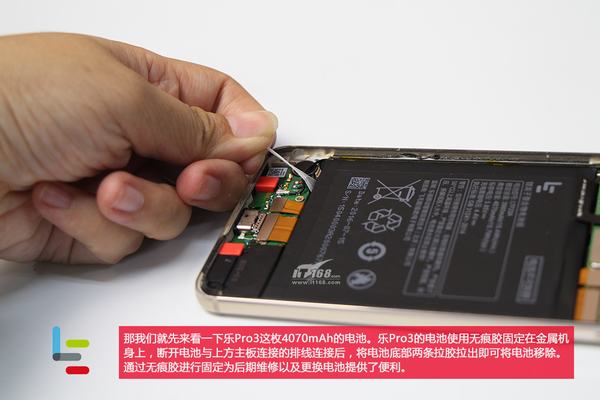 LeEco Le Pro 3 comes with a 3.85V, 4070mAh Li-polymer battery.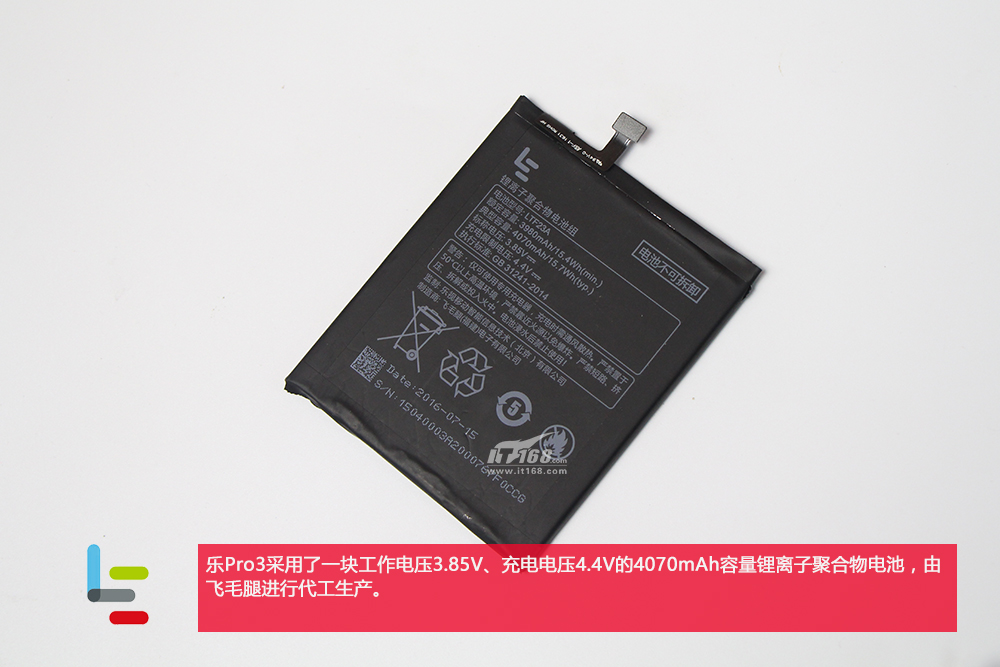 The bottom board is integrated a vibration motor, a microphone, a USB Type-C port and a speaker, in the microphone and USB Type-C port around the silicone seal to prevent dust entering the fuselage inside.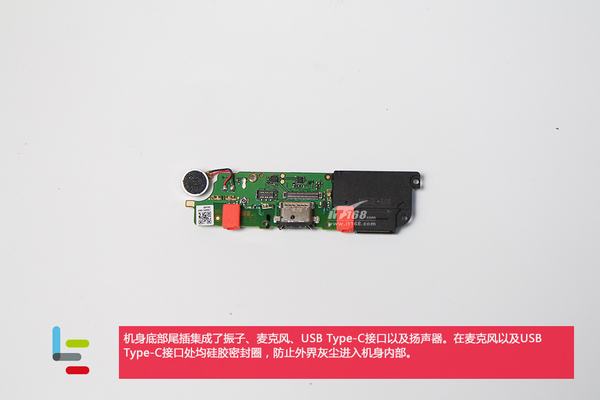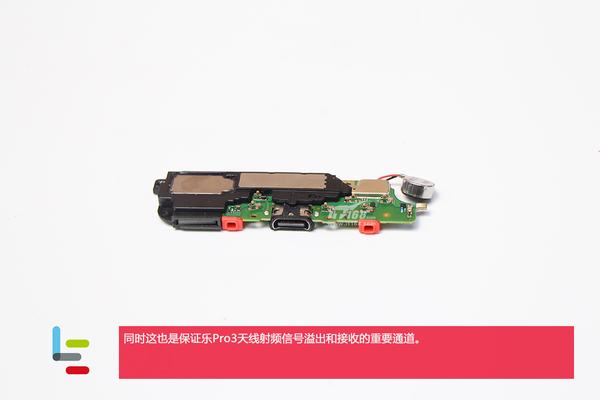 From this picture, we can see that most main chips are covering with the metal shield.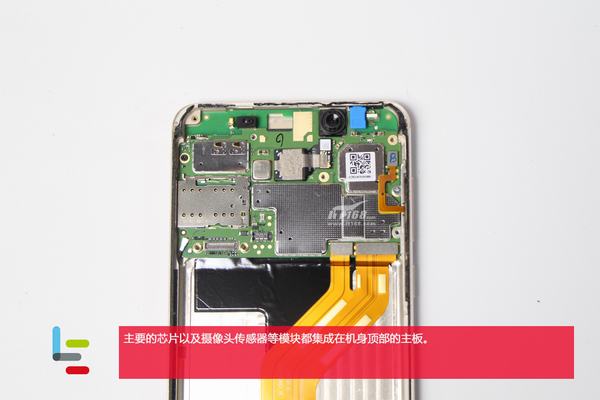 Remove all screws securing the motherboard.
Disconnect the button module cable.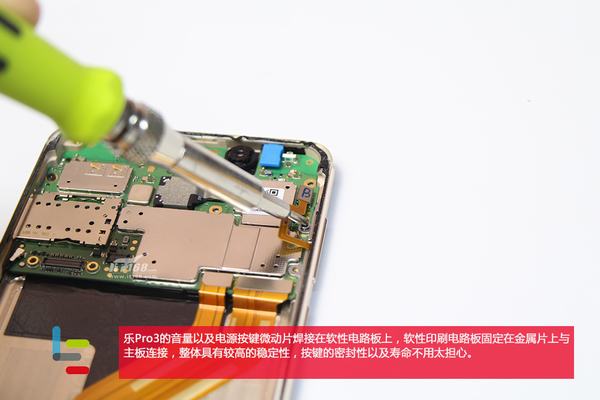 Here's the button module.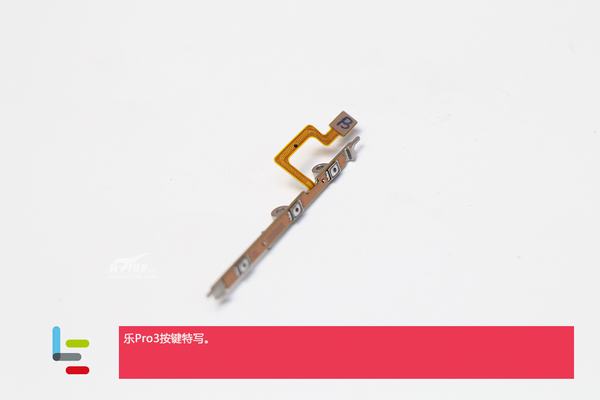 Remove the motherboard.
On the back side of the motherboard, the fingerprint module cable is still connecting to the motherboard.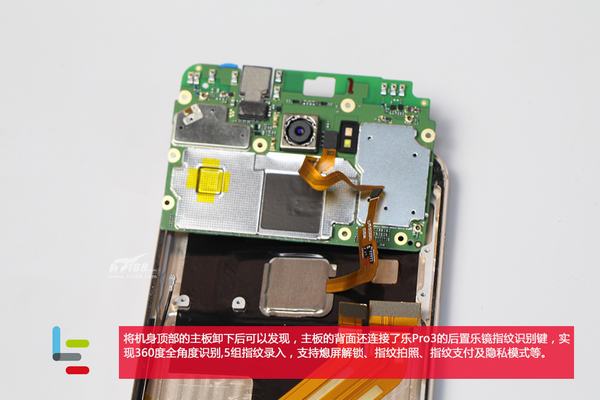 8MP front camera and 16MP rear camera.
The rear camera is using Sony's IMX 298 camera sensor, F/2.0.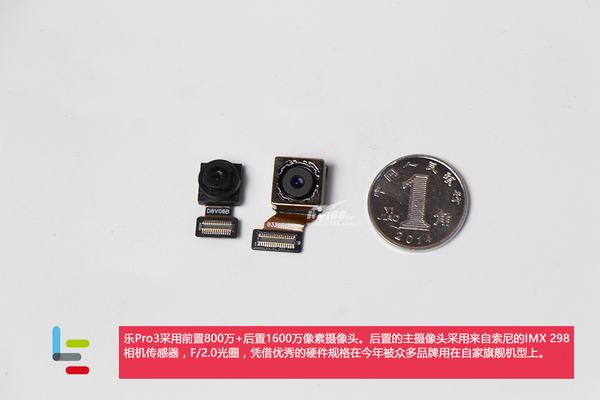 Qualcomm Snapdragon 820 CPU + Samsung 6GB RAM
Qrovo QM48184 RF chip
Skyworks 77643-21 RF chip
Qualcomm QCA6174A Wi-Fi
Samsung 64GB ROM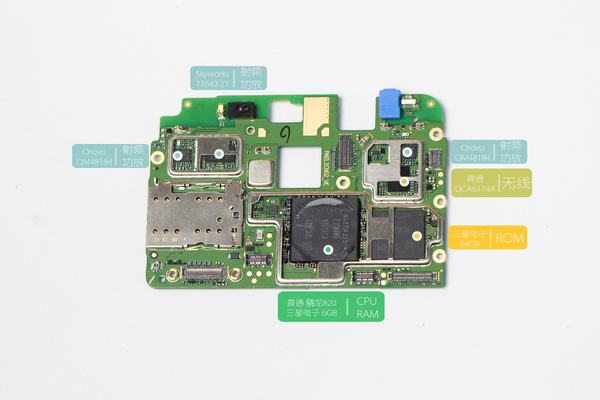 Qualcomm PM8996 power management chip
Qualcomm WTR3925 RF chip
Skyworks 77916-21 RF chip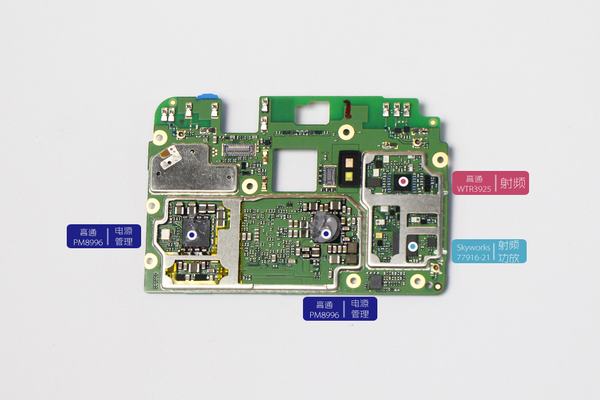 Source: it168