The LG G5 is followed up to the G4. Announced at MWC 2016, the 5.5-inch G5 is a powerhouse offering from LG that features not one – but two – rear cameras, a removable battery, expandable storage and is running Android 6.0 Marshmallow.
The phone has a 5.3-inch QHD display, 2.15GHz Snapdragon 820 SoC, 4GB of RAM, 32GB of storage, microSD slot, 16MP camera with an 8MP wide-angle secondary camera, 8MP shooter up front, Wi-Fi ac, Bluetooth 4.2, and a 2800mAh battery.
Join us on the social network! Follow us on Facebook for all the latest repair news.
Tools needed: Screwdriver, tweezers, crowbar and guitar pick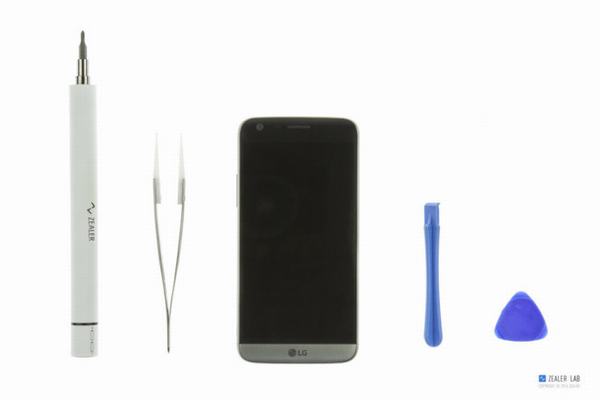 Press the button on the left side of the phone, and then slide it to the left and take out the G5's battery module.
Removing the battery is very easier than other flagship phones on the market.

Separate the bottom module from the battery.

Battery capacity of 2700mAh, charging limit voltage of 4.4V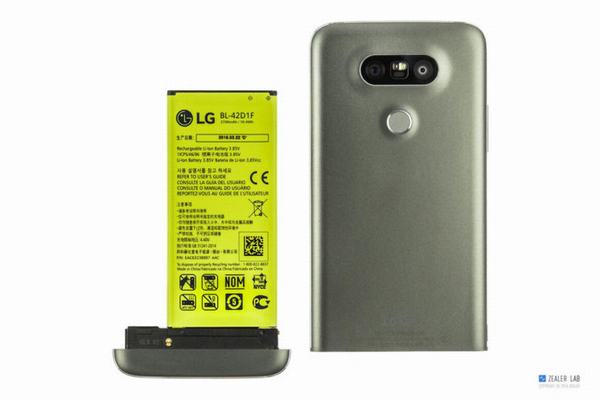 On the bottom module, we can find the battery module snap, main antenna shrapnel, deputy board connector socket, main antenna contacts and deputy board contacts.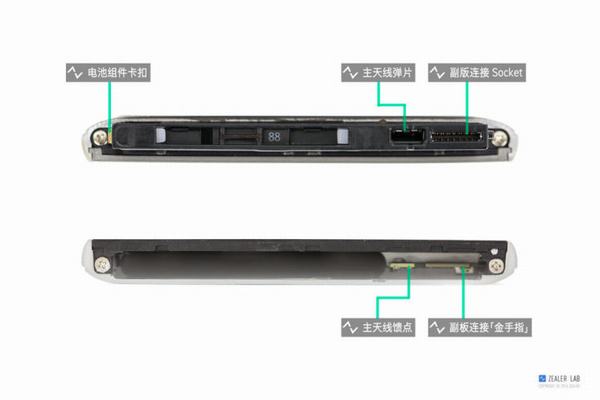 Now remove the SIM card tray.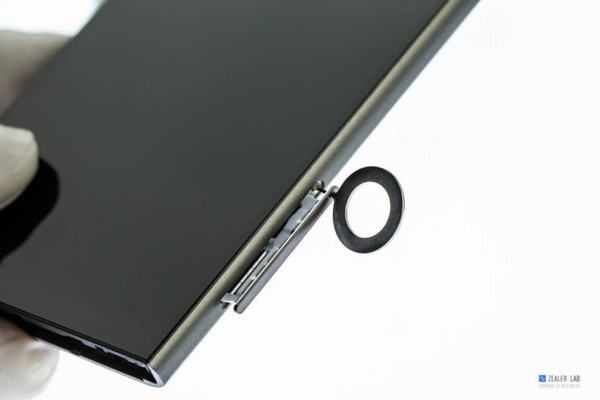 SIM1: Nano-SIM
SIM2/TF: Nano-SIM & TF-card
There is a "T" shape design on the SIM card tray, to avoid inserting backward cannot be removed or damaged SIM / SD contact terminal.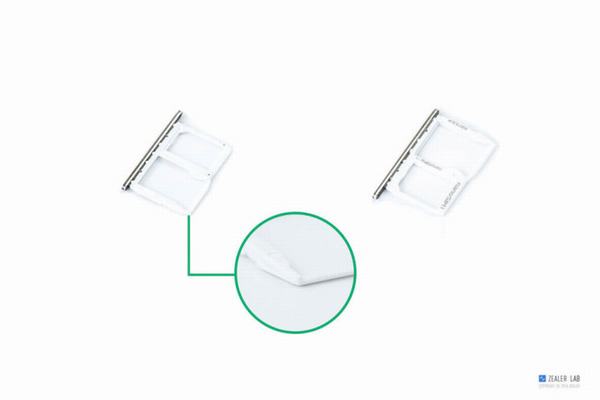 Remove two screws.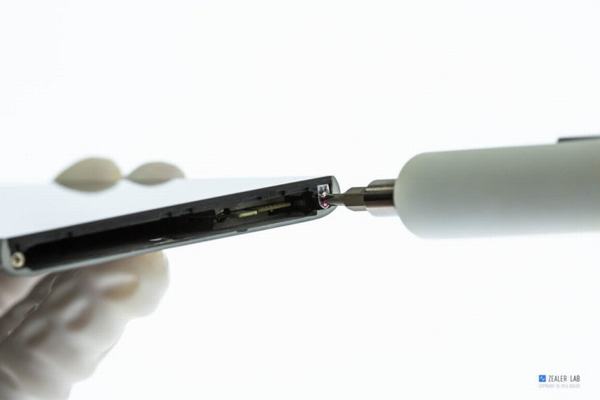 Insert a guitar pick between the back cover and chassis, slide the pick until the back cover is taken off from the chassis.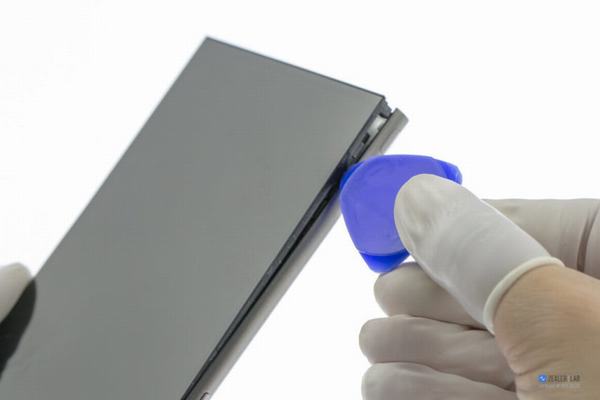 There are six screws securing the motherboard to the chassis.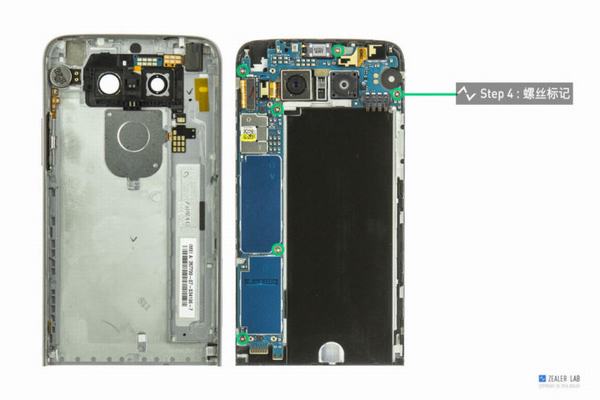 It is noteworthy that there is a springy mechanical gadget on the back cover. It is used for fixed the battery.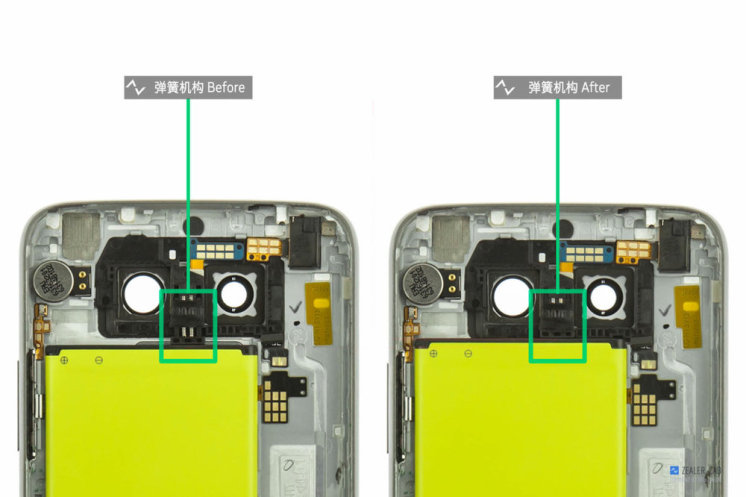 Disconnect the display cable from the motherboard.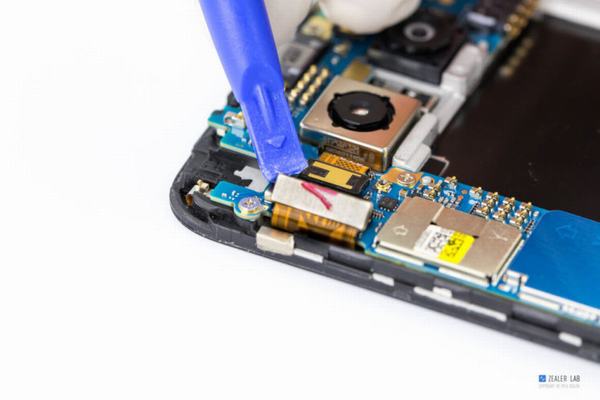 Remove six screws that securing the motherboard. And then take out the motherboard.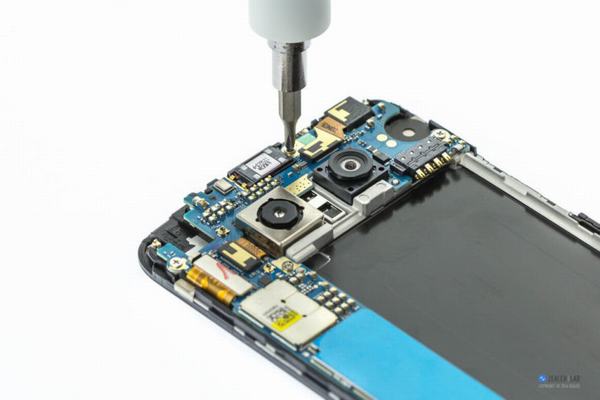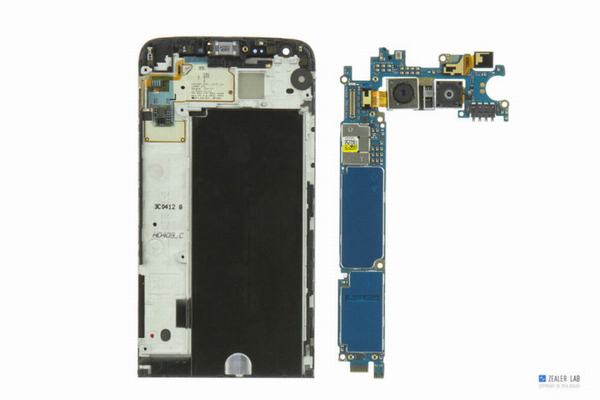 SoC + RAM: Qualcomm Snapdragon 820 + Skhynix H9HKNNNCTUMU 4GB LPDDR4 RAM
ROM: Toshiba THGBF7G8K4LBATR 32GB MLC UFS 2.0
SlimPort chips: ANX7816 Ultra-HD Transmitter + ANX7418 USB-C Switch/Controller
The Slimportcan be output video and audio to the devices that have the HDMI/Displayport/DVI/VGA ports.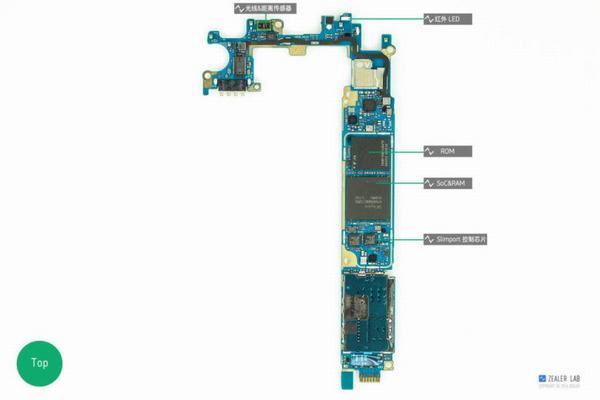 Power management ①: Qualcomm PMI 8996
Power management ②: Qualcomm PM 8996
Multiband Amplifier: Avago ACPM-7788
LTE reception: Skyworks 77440-11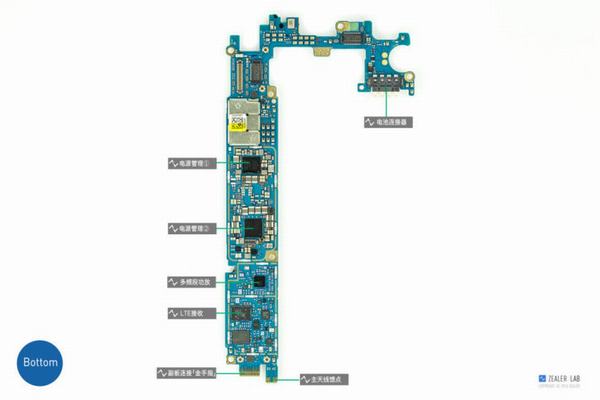 LG G5 has two rear cameras, and different with HUAWEI P9, does not use structural parts to fix them together; in principle, G5's rear camera respectively provides different functions – that is, a wide-angle lens and a standard optical image stabilization lens.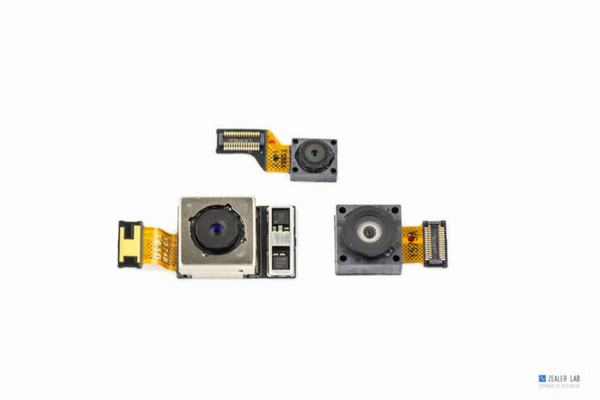 Remove two screws.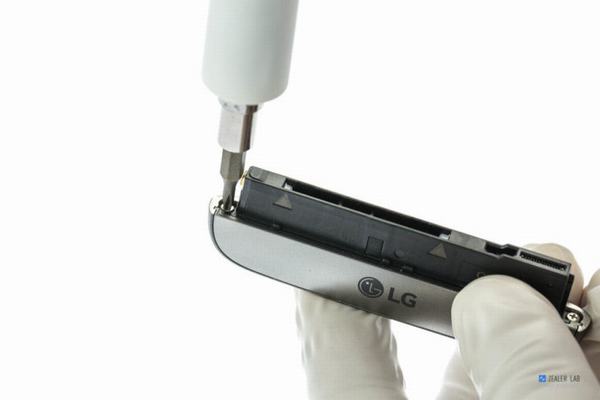 Pry off the cover with a guitar pick.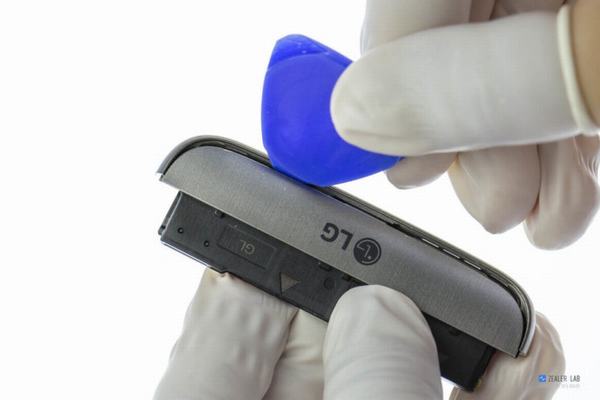 The cover is fixed on the bottom module by glues.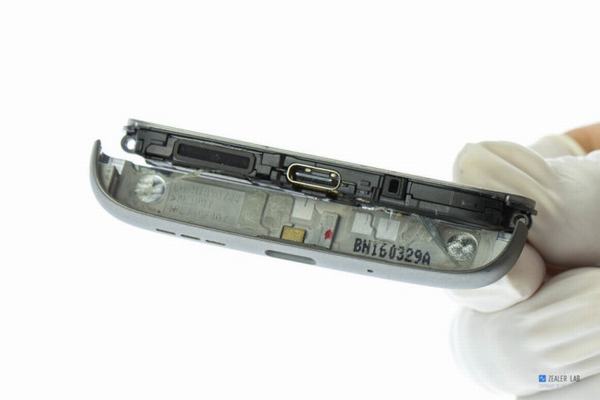 And remove all screws securing the frame.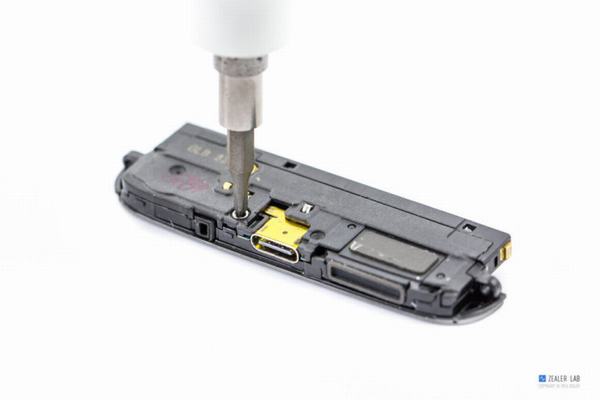 Remove the frame from the bottom module.

Remove the little board.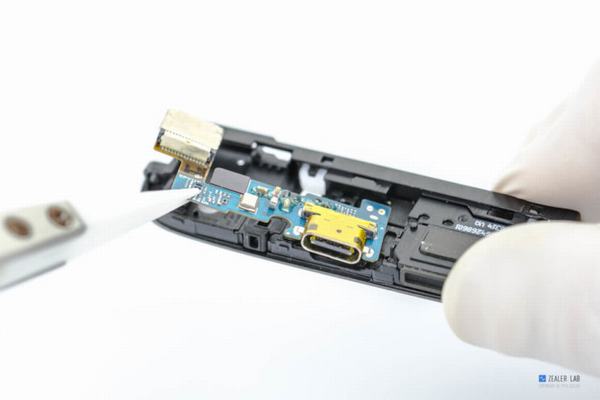 On the little board, you can find little board connects socket, microphone, USB Type-C port and some spring contacts.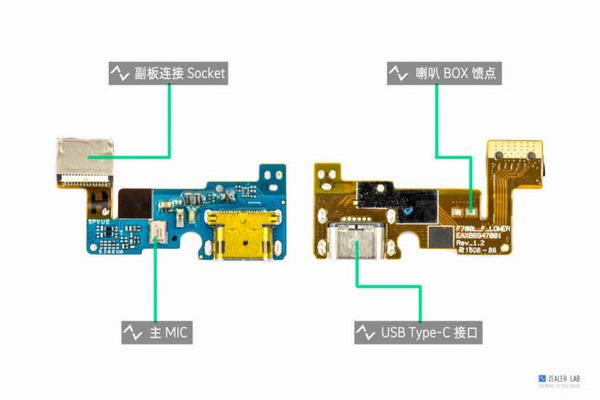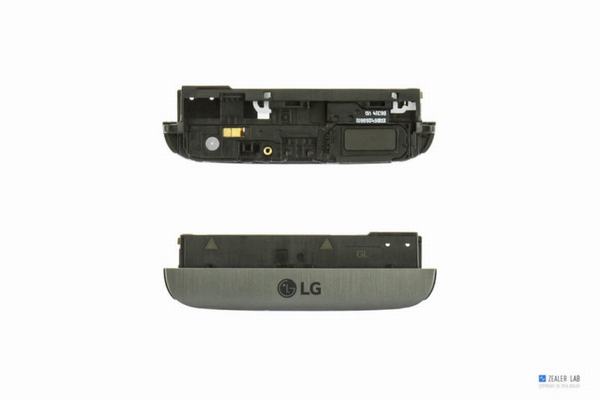 Heat up the LED flash module and remove it.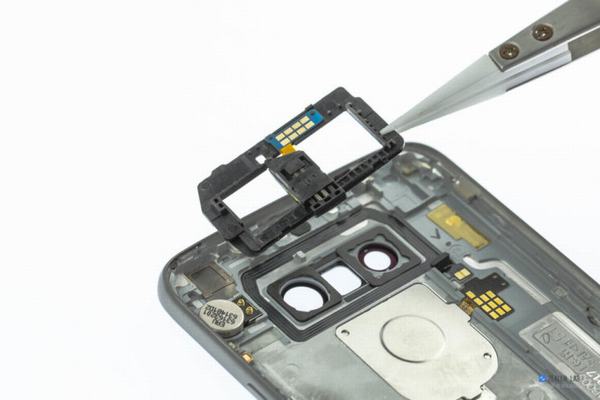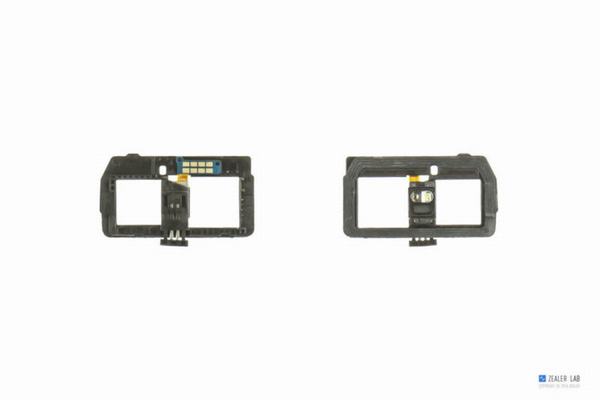 Handset, headset seat and vibration motor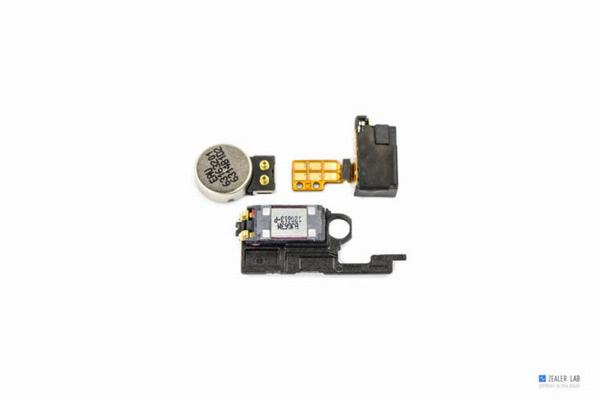 Source: zealer.com