Huawei's Mate 40 series is currently facing uncertainty. Huawei's consumer business CEO, Richard Yu said in response to when the new phone will be released: "Please wait a moment, everything will arrive as scheduled."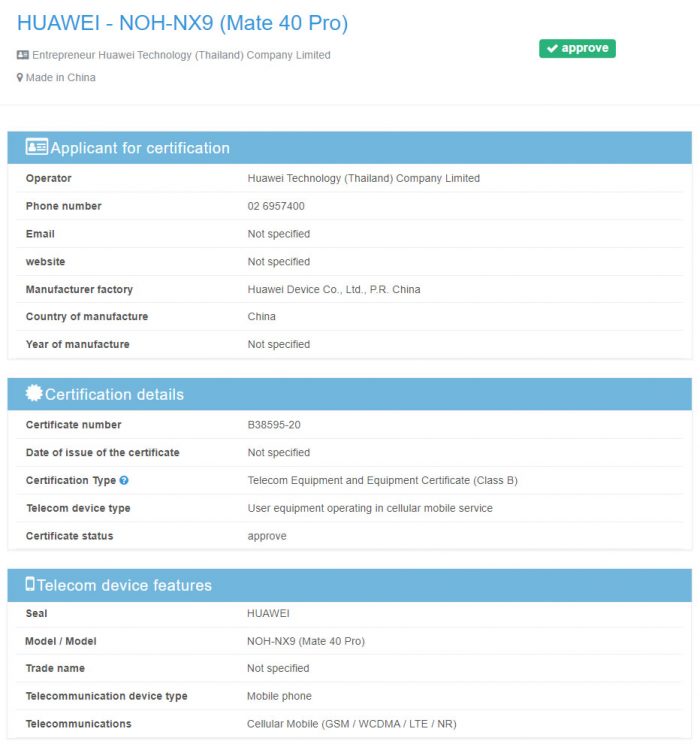 At present, the new phone seems to have got the NBTC certification and Eurasian Economic Commission certification (Russia). In the device list, there is a model of NOH-NX9, which is believed to be the Huawei Mate 40 Pro. However, the certification did not give more details of the phone, the only information revealed is that it supports 5G networks. According to another news, the Mate 40 series will support 66-watt super fast charging.
There are reports that the Mate 40 series is seriously delayed, but Huawei's chips are also in stock, and Huawei seems to be still proceeding with the certification of the Mate 40 series step by step. Although there are reports that the Mate 40 series will not be available until next year, it is currently expected that Huawei will launch a new phone in China sometime next month.
Earlier digital bloggers broke the news that they received news that Huawei Mate40 series may hold a global conference in mid-October, and Huawei will release HiSilicon Kirin 9000 series SoC before then. In addition, he also said that there is news that Huawei Mate40 may use 7nm process Kirin 9000E chips, but the other two models will still be equipped with 5nm Kirin 9000 5G chips.