It is observed that almost every company in the smartphone industry is now trying to launch their models earlier than the expected time. This morning, we also reported that Vivo is already working on its new X70 series. And once again, we got another smartphone brand that is trying to bring their new models earlier.
A few hours ago, the upcoming Nova 9 series from Huawei has been listed on the Chinese 3C Certification site, which confirms that the actual launch date is now not so far from us. The 3C Certification consists of two model numbers: NAM-AL00 and RTE-AL00.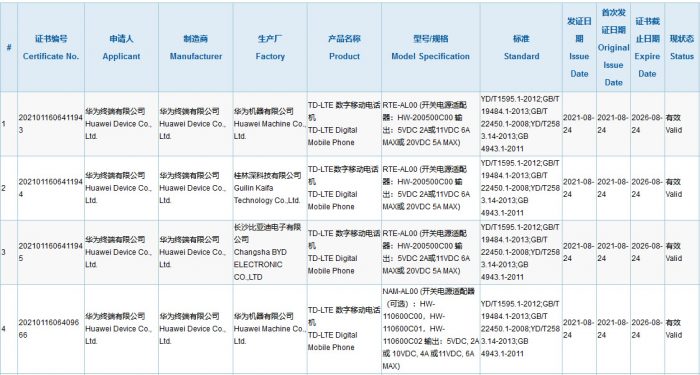 From the charging specifications, we can conclude that NAM-AL00 belongs to the standard version of the Nova 9 series while the RTE-AL00 is the model number of Nova 9 Pro. It is worth mentioning that both models have the exact charging specifications as in the Honor 50 series (Standard and Pro models).
The 3C Certification confirms that the model NAM-AL00 will be equipped with the Huawei's 66W old charger having model no: HW-110600C00. The same charger was used in the Mate40 series for the first time.
The second model RTE-AL00 will come with Huawei's new 100W charger (20V/5A). This new charger is expected to be used in the upcoming flagships of Huawei, like the Mate series.
It is worth noting that both of these models lack the 5G support. These models will probably use Qualcomm's 4G chipset (according to reports) as the company has the license to use them. Moreover, it was also reported that both models are likely to be powered by Snapdragon 778 chipset.
In the last article, we revealed that the new Nova 9 series would be the rebranded version of the Honor 50 series. Through the TENAA Certification, the appearance of Nova 9 Pro was also leaked in which it was observed that it is the same as the Honor 50 Pro.
The launch of the Huawei Nova 9 series is expected in September 2021.