The day before yesterday, Huawei made it official that the company is all set to launch its first-ever folding phone Huawei P50 Pocket Edition, which adopts a vertical folding solution just like Galaxy Z Flip and Motorola Razr. Unfortunately, there was no appearance reveal of the device in the official announcement.
Thanks to the @Fashion Bazaar (on Weibo), who just has revealed the appearance of Huawei's next level flagship device P50 Pocket Edition. In the images, the phone can be observed from different angles.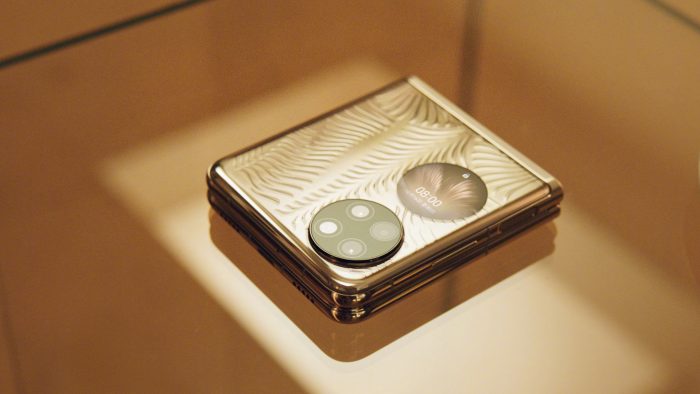 Like the Galaxy Z Flip series, the phone can be used in semi-folded conditions to take better images. Not only that, the backside features two circles making a lot of resemblance with the standard Huawei P50. The overall body color seems Dark Gold color and has an eye-catching texture on it, making the device's appearance more premium.


The first circle consists of three matrix camera lenses and an LED Flash. The second circle is actually the mini secondary LED screen, which lets the user do many different tasks. The second screen's primary purpose is to see notifications, but it can also be used for clicking selfies (as observed in the images).
Moreover, the device is also equipped with a side fingerprint scanner, making the unlocking scenario easy and comfortable. On the bottom, the Type-C USB port has been placed, while it also seems that the company has ditched the 3.5mm headphone jack.
Check out the previous post for more information regarding the new Huawei P50 Pocket Edition.