This afternoon, it is reported that Fang Cheng Bao (a sub-brand of BYD) has released the images of its first-ever EV model, "Leopard 5." As per the information revealed by the officials, Leopard 5 is equipped with a new hybrid platform called DMO and a cloud chariot-p intelligent body control system.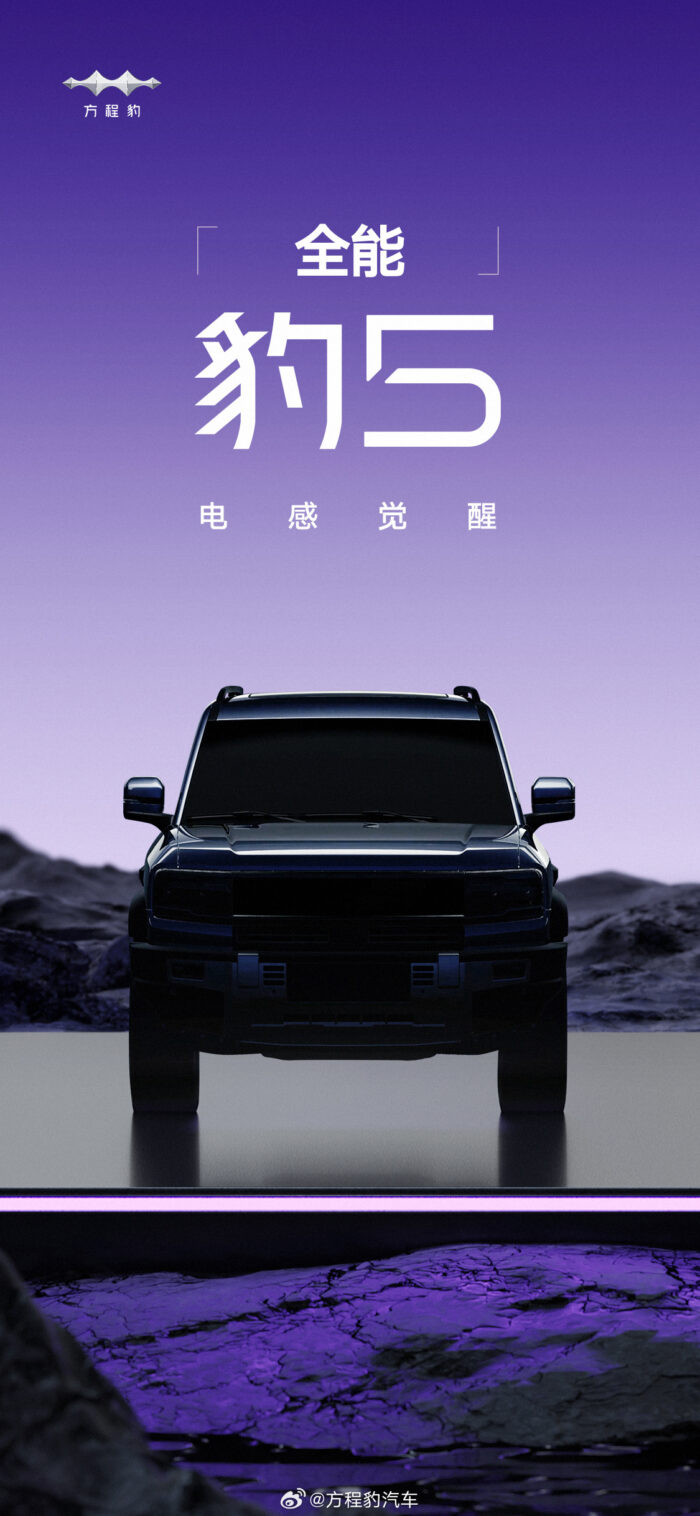 The estimated price range for the Leopard 5 is $55,700 to $83,500 (400k to 600k yuan). Its delivery is expected to start this year. From the images, it can be judged that this hardcore SUV comes with a robust and rugged design. The SUV adopts the usual square box shape like other SUVs.
In addition, multiple raised ribs on the front hatch contribute to its hardcore SUV appearance and improve its front face recognition. The silver steel guard plate surrounding the lower part enhances its rugged look and energy. The raised parts on both sides of the body are speculated to be two semi-solid-state LiDAR.
As per the revealed information, Leopard 5 will have a non-load-bearing body structure and will be equipped with front and rear dual motors and three locks and use the all-new DMO hybrid platform. The hybrid system on the new DMO platform will integrate the core technologies of DM-i and DM-p, combining the advantages of both systems.
The comprehensive battery life of the Leopard 5 is claimed to reach an impressive 1,200 kilometers, making it capable of covering long distances on electric power alone, surpassing the Mercedes-Benz G63, which has 430 kilowatts of power, making it a robust off-road benchmark. Thanks to the Three Locks feature, which allows the SUV to handle all kinds of extreme off-road conditions easily.
Regarding the interior of the Leopard 5, according to interior images of the Leopard 5 circulating on the internet, it successfully balances a rugged atmosphere with a sense of luxury. The center console of the Leopard 5 features three LCD screens: A full LCD instrument panel, a large-size central control screen, and a co-pilot entertainment screen.
In addition, the camera at the A-pillar position indicates that this hardcore SUV might support facial recognition and other functions.
It feels that the Leopard 5's interior is designed to be both functional and user-friendly. In addition to the LCD screens mentioned earlier, the bottom of the center console is equipped with various transparent mechanical buttons, including Aircraft-style button shifting, One-button start, and Differential lock.
Apart from the functional buttons, the large storage compartment offers ample space for the occupants to store their belongings and keep the interior organized. In addition to the DMO Hybrid Platform, the Leopard 5 is also reported to feature the Cloud-p intelligent body control system, enhancing its High strength and performance of the whole vehicle to the next level.