At the bottom of the laptop, there are 10 screws to fix the bottom cover. We use a screwdriver to remove these 10 screws, then use an old card or thin plastic sheet to insert between the bottom cover and the body, and slowly pry open the bottom cover to separate it from the fuselage.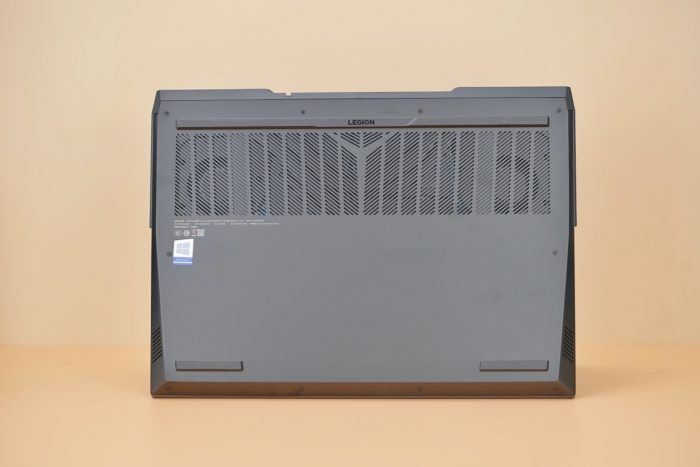 After removing the bottom cover, let's take a look at the internal structure of Legion 5 Pro. Although it uses traditional copper pipes for heat dissipation, the cooling system of Legion 5 Pro is also quite luxurious. Almost the entire motherboard is covered by the heat-dissipating metal cover, and only a small part of the motherboard is not covered.


Its cooling system is equipped with double fans, four air outlets, and five copper tubes. Although it seems that there are not many copper tubes, the diameter of the copper tubes is not small at all. The diameter of the copper tubes connecting the CPU and GPU is as high as 10 mm, in addition, there are an 8mm copper tube and two 6mm copper tubes to assist in heat dissipation. There is also a copper tube on the back dedicated to cooling video memory. Coupled with a large area heat plate, the actual heat dissipation efficiency is quite amazing.
Also Read: Lenovo Legion 5 Pro Review (Ryzen 5800H, RTX 3060)
The laptop comes with an 80wh battery, which can be tested in mixed mode with PCMark 10 and in-office mode for up to 7 hours and 21 minutes.



There is an m.2 slot on both sides above the battery. We remove the metal cover on the left, and there is only one M.2 port under it.


Remove the metal cover on the right, you can find an M.2 SSD and a wireless network card. The model of the SSD is SN730, and the capacity is 512GB. The wireless network card model is Intel AX200NGW, it supports Wi-Fi 6 network, and the maximum speed is 2400Mbps. In addition, thermal grease is pre-installed inside the metal cover at the corresponding position of the SSD, which can better conduct heat.


This laptop is pre-installed with two 8GB 3200MHz DDR4 memory. According to Lenovo's official information, it can support up to 32GB DDR4 3200MHz memory.