It is known that the Redmi K40 series will be launched officially on 25th February. As the launch time is coming near, things regarding the new flagship series are getting revealed. Today, another highlight regarding the upcoming device has been revealed.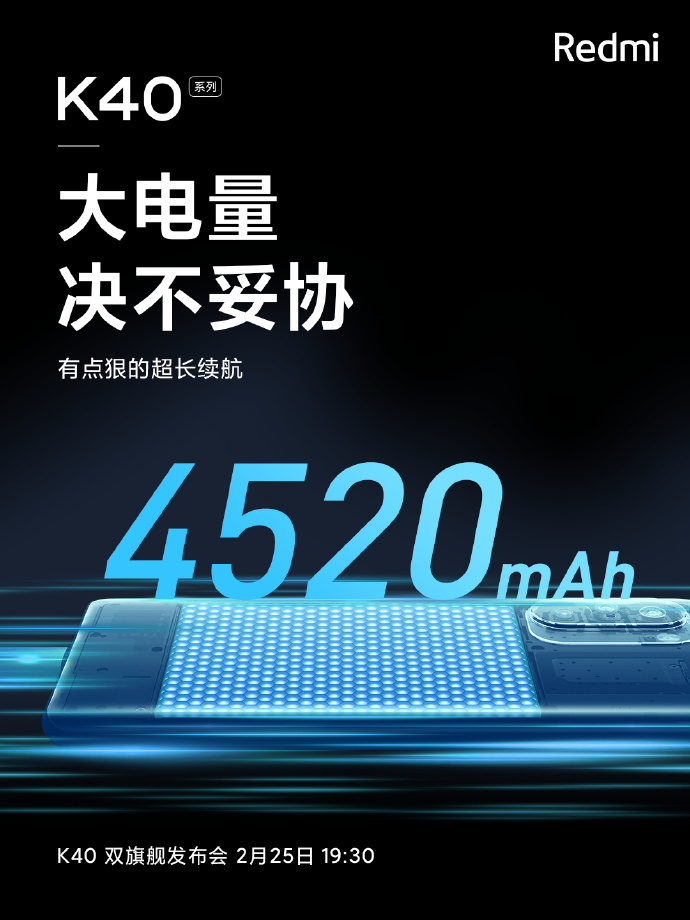 Recently, it has been officially confirmed that the new Redmi K40 series will feature a 4520mAh Battery. The company further mentioned some points regarding the battery of this new flagship series.
Snapdragon 888 flagship chipset, the battery capacity must not be less than 4500mAh'
Never sell as a gimmick, sacrifice battery life experience
Under the premise of strong battery life, the pursuit of the ultimate light and thin hand feel
As per current information, the Redmi K40 series will consist of two devices: Redmi K40 and Redmi K40 Pro. The display of both device sizes around 6.67-inch with a centered perforated screen, using Samsung's latest E4 AMOLED luminescent material, while also supporting a 120Hz refresh rate. The punch-hole is only about 2.8mm, the smallest proactive hole on the market.
The Redmi K40 also supports Dolby Atmos and has a Dual Hi-Res small gold standard certification. The standard version is expected to be equipped with Snapdragon 870 chipset, while the Pro version will feature Snapdragon 888 chipset.
The Pro version will also feature a quad-camera solution (108MP + 8MP + 5MP + 2MP). A 30 MP sensor is also expected in the front camera. In addition to a 4520mAh battery, the device is also expected to feature 33W fast charging.
The all-new Redmi K40 series will be launched on 25th February.