As we all know, the upcoming expected flagship chipset from Qualcomm is its Snapdragon 875G. There were no leaks at all till yet regarding this chipset. But today, we got something exciting news regarding the upcoming chipset.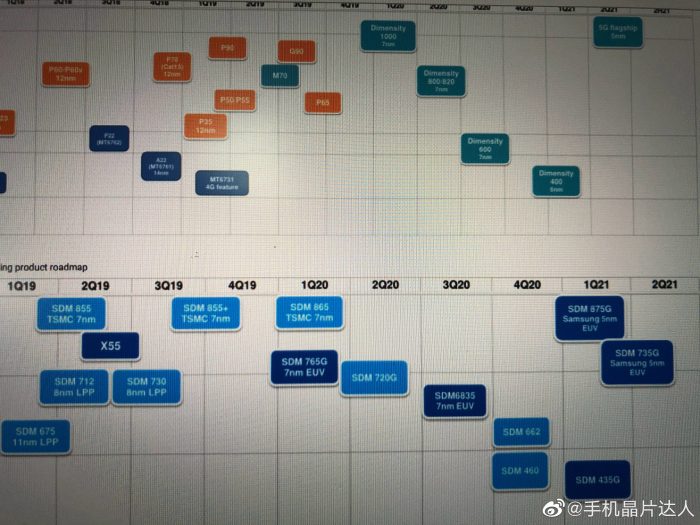 Today, the digital blogger @mobile chip expert (on Weibo) has revealed a photo of the investment bank's market research report on MediaTek and Qualcomm. The report also includes the upcoming chipset "Snapdragon 875G," and it is mentioned that the chipset will be based on Samsung 5nm EUV process. The chipset will be launched in the first quarter of 2021.
Moreover, the report not only includes the Snapdragon 875G, but it also consists of some more upcoming chipset. There is an unknown chipset "SDM6853," which is based on a 7nm EUV process, set to be launched in the third quarter of the current year (2020). According to previous reports, SDM6853 should be Snapdragon 690. Then in the fourth quarter, there are two (low to mid-range) chipsets "SD 662" and "SD 460". The chipset "Snapdragon 662" is already spotted on Geekbench many times with a codename "Bengal."
Next, we have a new mid-range chipset, "Snapdragon 735G," which is based on the same process of SD 875G. This chipset is expected to launch in between the first and second quarter of 2021. There is also a low-end processor, "Snapdragon 435G," which will be launched after Snapdragon 875G.
Moreover, the reports also include the upcoming MediaTek chipset. The upcoming chipsets from MediaTek are Dimensity 600 (for low to mid-range) and Dimensity 400 (entry-level chipset) with 7nm and 6nm based process, respectively. The Dimensity 600 will be launched very soon (maybe in a month or two), while the Dimensity 400 is expected in the first quarter of 2021.
Previously, it was reported that the new SD875 and X60 5G baseband have been sent officially for mass production to TMSC and are expected to be delivered in September. Moreover, the new chipset will use the core combination of Cortex X1 and Cortex-A78.
Currently, there is no more info regarding the upcoming chipset.