It was reported that Samsung is planning to launch its many devices, including Galaxy Fold2, Z Flip 5G, and Galaxy Tab S7 series, in the same event, which will be happened on 22nd July, before the UNPACKED event (happening on 5th August). All the devices mentioned above are also getting exposed as the launch event is coming near.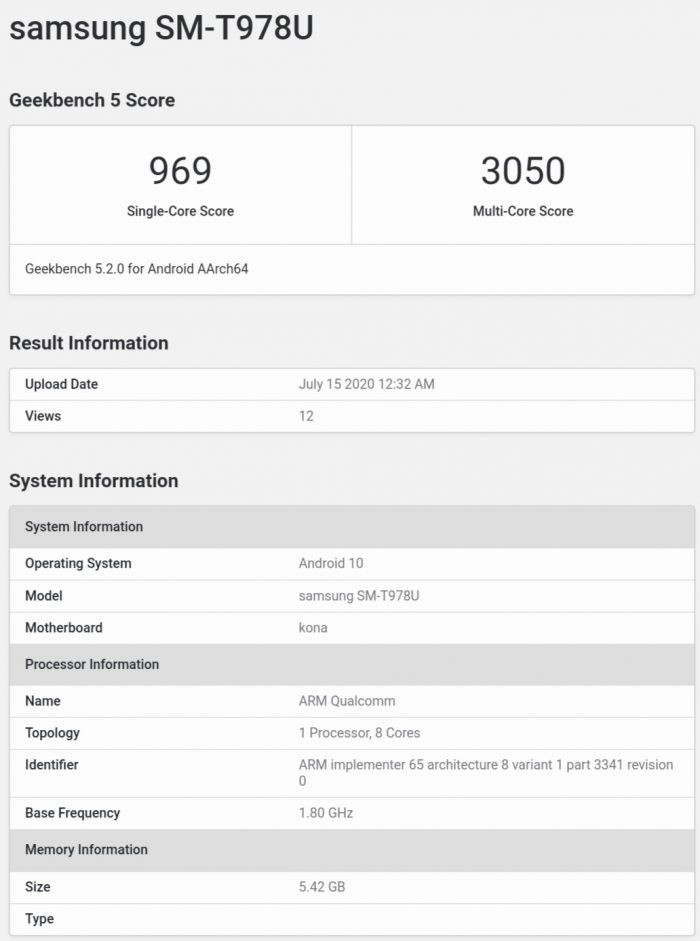 Today, a new variant of the upcoming Galaxy Tab S7+ has been spotted on Geekbench. This time, it seems to be a 5G variant because its model number "SM-T978U" is different from previously leaked model numbers. Looking at the model number, it can be seen that it is an American variant (as the letter U always included at the end of the American variant).
Moreover, no Geekbench has been spotted before this, with the model number "SM-T978U". In the Geekbench, it can be seen that the phone is running the latest Qualcomm's chipset Snapdragon 865 (same in other Geekbench) and is equipped with 6 Gigs of RAM. The phone has scored a total of 969 points on single-core and 3050 points on multi-core.
It seems like that this 5G variant will use the same specifications as the other Galaxy Tab S7 variants have.
According to some previous reports, it is confirmed that the upcoming Galaxy Tab S7+ will be equipped with a 12.3 inches AMOLED display with a 120Hz refresh rate. Moreover, it will be powered by a 10000 mAh battery with only 15W charging support. On the back, there is a dual-camera setup too. The Galaxy Tab S7+ also supports S Pen connectivity and is equipped with an in-display fingerprint scanner.
The upcoming Galaxy Tab S7 series is expected to launch on 22nd July with the Galaxy Fold 2, Z Flip 5G, and maybe a new Watch Series. The tablet will give high competition to Apple's iPad Pro series.