It is expected that Vivo can officially confirm the launch of its upcoming X60 series at any moment, as it is getting exposed, more appropriately, day by day. Today, some new Vivo's devices have been spotted on 3C Certification.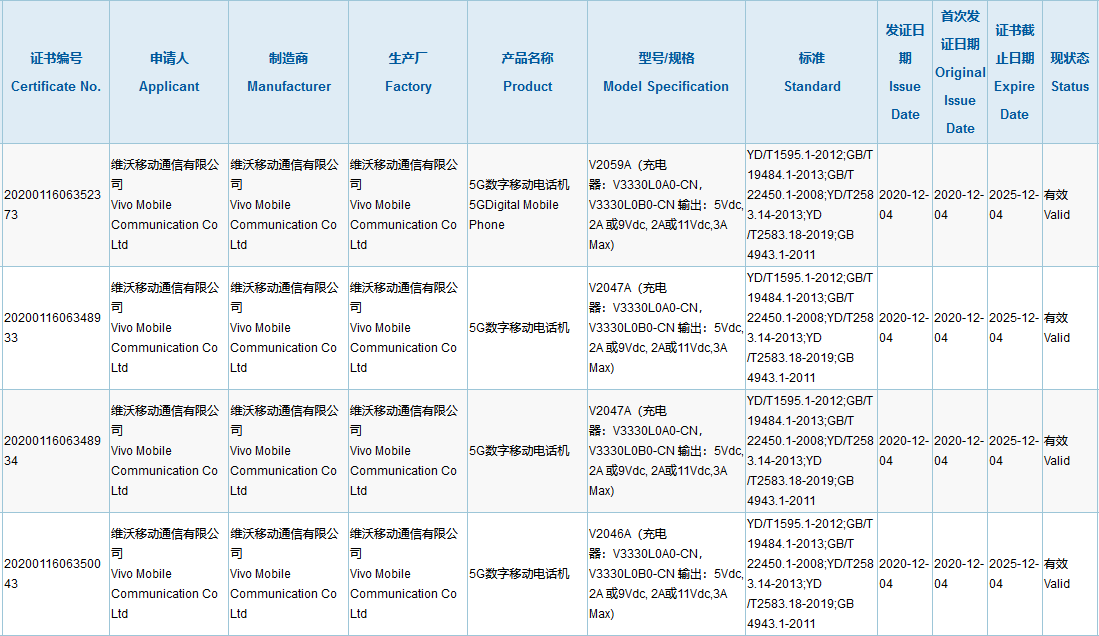 According to the famous blogger @Digital Chat Station, the above devices belong to Vivo's upcoming X60 series. The following model numbers have been spotted on the 3C Certification: V2059A, V2047A, and V2046A.
All of these models supports maximum charging at 33 Watts. It seems like all of these model numbers don't belong to the high-end variant (i.e., Vivo X60 Pro+), as the blogger also mentioned. In the previous Vivo's X50 series, the high-end variant was powered by 44W maximum charging.
It can also be seen that these models use the same Vivo's 33W fast charger (V33300L0A0-CN), which also came with Vivo's X30 and X50 series.  The charger supports charging in following modes: 33W (11V, 3A), 18W (9V, 2A), and 10W (5V, 2A).
The applicant for all of these models is the Vivo Mobile Communication Company Limited.
As we reported previously, the all-new Vivo X60 series is expected to feature Exynos 1080 chipset (except the high-end variant). Last time, the Vivo's X30 series was the one to use Samsung's Exynos 980 chipset.
The all-new Exynos 1080 (5nm) is an octa-core chipset. The chipset consists of 1x Cortex-A78 super-core (clocked @2.8GHz), 3x high-performance 2.6GHz Cortex-A78 cores and 4x energy-efficiency Cortex-A55 cores clocked @2.0GHz. The chipset also uses Mali-G78 (10-cores) GPU.
At the moment, it is expected that the Vivo X60 series will be launched at the end of this month or maybe at the start of Jan 2021.