A long time ago, there were rumors that Xiaomi would enter the electric car industry, and now this rumor has been confirmed.
Now, Xiaomi Group has just issued an announcement on the Hong Kong Stock Exchange stating that the company's board of directors has formally approved the smart electric vehicle business project. The company plans to establish a wholly-owned subsidiary to be responsible for the smart electric vehicle business. The initial investment is RMB 10 billion, and the investment is expected to be USD 10 billion in the next 10 years. Mr. Lei Jun, the CEO of the Group, will concurrently serve as the CEO of the smart electric vehicle business.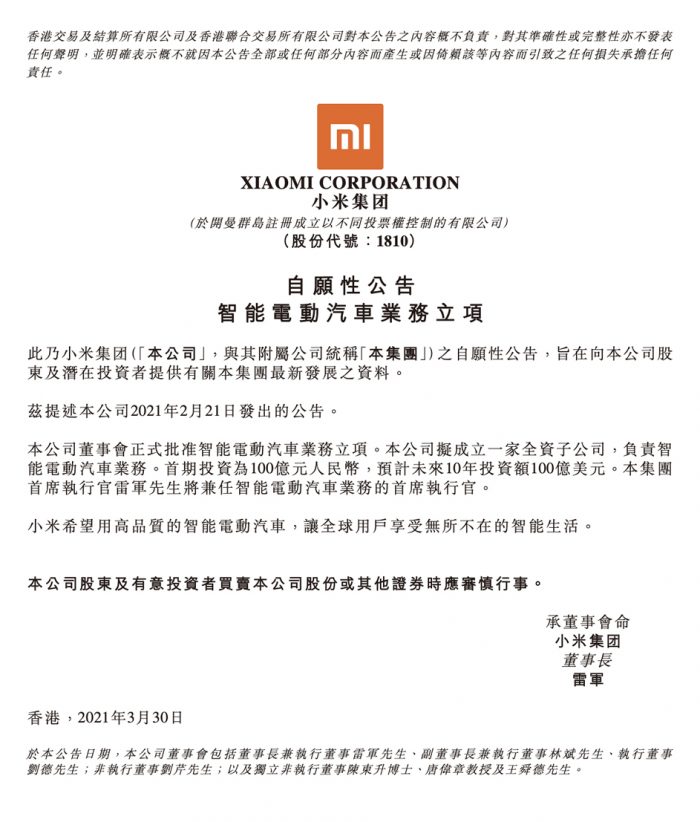 Previously, Lei Jun, Chairman and CEO of Xiaomi Group, said in a dialogue program that "Xiaomi has a big project recently and has prepared 10 billion U.S. dollars." Xiaomi does have sufficient funds to invest in electric vehicle building. The latest financial report shows that the annual mobile phone shipment of Xiaomi in 2020 is 146 million units, annual revenue will be 245.9 billion yuan, and cash reserves will exceed 100 billion yuan.