In the past few days, it was rumored that Xiaomi is looking forward to releasing the upgraded version of its Xiaomi 13 series, the "Xiaomi 13S series." But, the final and official answer has been given to these rumors today.
This morning, the CEO of Xiaomi (Lei Jun) on Weibo has officially announced that the company has no plan to release the Xiaomi 13S series at the moment. In the official post, the CEO said, "Currently, has no plans to make a half-generation upgraded version. You don't have to wait for Mi 13S."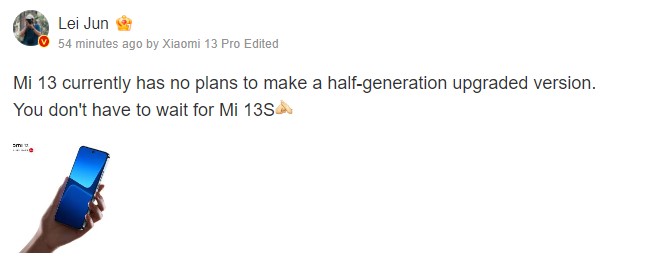 This indicates that the rumors regarding the early launch of the Xiaomi 13S series are false. Further, if the launch of the Xiaomi 13S series happens, it will probably be in the year's second half. It is worth mentioning that last year, Xiaomi introduced the Xiaomi 12S series in the second half of the year.
Further, if this series's launch happened, it would be powered by the overclocked or improved version of the standard Snapdragon 8 Gen2, which would be named the Snapdragon 8+ Gen2. But the rumors also indicate that the launch of Snapdragon 8+ Gen2 might not happen this time.
Currently, Xiaomi is all set to introduce its Xiaomi 13 series globally in the upcoming MWC 2023 event in Barcelona. This would include the Xiaomi 13 Lite 5G, Xiaomi 13 5G, and Xiaomi 13 Pro.