Back in December 2022, iQOO revealed its iQOO 11 series model. This lineup is iQOO's primary flagship lineup, which is usually powered by Qualcomm's flagship SoCs. However, it seems that the company is now working on next-generation models as the new leaks are now getting revealed.
Recently, the famous blogger @DigitalChatStation has revealed that two new models from iQOO, which are named iQOO 12 and iQOO 12 Pro, got listed on the UFCS certification, which has shown the battery capacities of both models, in addition to charging power as well.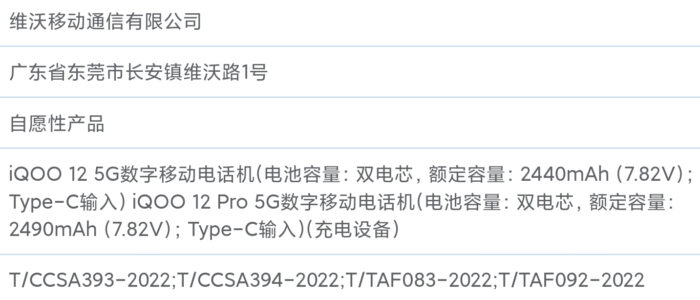 As can be seen, the standard iQOO 12 would be powered by a 4880mAh Dual-Cell (2x 2440mAh cells) battery and would support 120W fast charging. The second model is the Pro model, which features a 4980mAh Dual-Cell (2x 2490mAh cells) battery and supports 120W wired charging and 50W wireless charging. Both models are equipped with USB Type-C port.

Compared with last year's models, it has been observed that iQOO has reduced the charging power on the Pro model from 200W to 120W, while it is the same on the standard model. The battery capacity on the standard iQOO 12 is reduced by 120mAh, while the Pro model has 180mAh more battery capacity when compared with last year's models.
It is also expected that both these models will be powered by the Snapdragon 8 Gen3 chipset, which is scheduled to launch in the upcoming Snapdragon Summit (which will take place during the 24 Oct – 26 Oct).
In terms of specifications, the chipset would be based on the new 1+5+2 core architecture and consists of the following cores: Cortex-X4 Ultra Core, Cortex-A720 P-Cores, and Cortex-A520 E-Cores.
Also Read: Samsung Galaxy Tab A9+ 5G Listed on Google Play Console
In the coming days, it is expected that more leaks will be revealed regarding the iQOO's upcoming flagship model. It is anticipated that iQOO will release these models in between November and December.