Yesterday, Huawei held a big event to officially launch the Mate 10 series: the Huawei Mate 10, the Mate 10 Pro and the Mate 10 Porsche Design in Munich, Germany. The three flagships are powered by the latest Kirin 970 processor.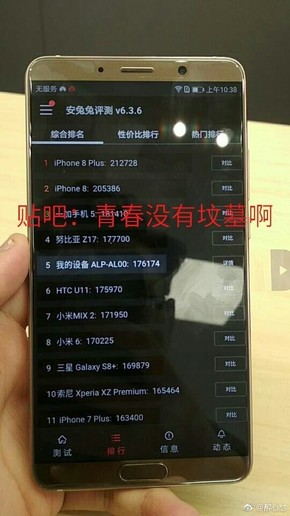 Recently, the Mate 10's score on Antutu has been exposed. From the picture, the exposed Mate 10's model number is ALP-AL00. It has got 176,174 scores on Antutu, which reaches the same standard that the phones powered by octa-core Qualcomm Snapdragon 835 processor have been.
The Kirin 970 processor is the key factor that influences the Mate 10 series' performance. The Kirin 970 chip is built on the 10nm process. Its CPU performance has improved 20% compared with its predecessor. Besides, it has integrated Neural Network Processing Unit (NPU), which has greatly improved the phone's capability in image recognition, picture-taking function, and other aspects.