Many rumors were circulating on the internet regarding the upcoming OnePlus 9RT. Even a model was also listed on several certification sites, which was expected OnePlus 9RT. But this morning, the company has solved all the mysteries with its latest announcement.
Today, after the end of the National holidays in China, OnePlus (China) has officially announced that the new OnePlus 9RT will be launched on October 13 at 7:30 PM (Chinese Timing). This time, the company has used the slogan "Speed has a new name!" for its OnePlus 9RT.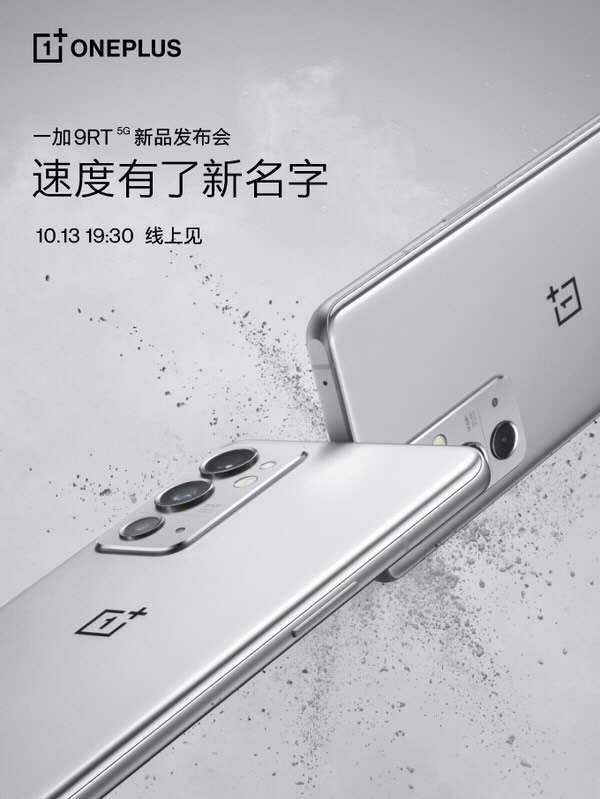 The official announcement poster also consists of the backside renders of the device in which it can be seen that the new OnePlus 9RT has some changes if compared with the standard OnePlus 9R.
The new T model has three camera lenses (arranged vertically) and Dual LED Flash. The upper two lenses are large, while the third (on the bottom) one is small. Further, the main lens is expected to be a 50MP Sony IMX766 sensor.
As per our sources, the device's color (in renders) would be named "Hacker Silver," having a textured material. It is also reported that there would be two more color options, "Blue Sky Enchantment" and "Dark Matter."
It is also observed that the company has used the OnePlus 9RT model to post this on Weibo, pointing that the retail models are almost ready to be shipped.
According to previous leaks, the new OnePlus 9RT will feature a 120Hz AMOLED Display in addition to a 4500mAh battery cell and 65W fast charging support. The device would be powered by the Snapdragon 888 flagship chipset, not the Snapdragon 888 Plus model.
The officials are also expected to reveal some key specifications in the upcoming days.