It is expected that OnePlus may unveil its new mid-range device – OnePlus Clover for a long time. Till now, there is no confirmation about the launch of the device. Today, the device has been spotted on FCC Certification, which has revealed more information regarding the upcoming model.
It can be seen that the device would be launch with three different model numbers. It may depend upon the region. The device would have the following three model numbers: BE2011, BE2012, and BE2015. It is also mentioned that there would be no difference between all of these models.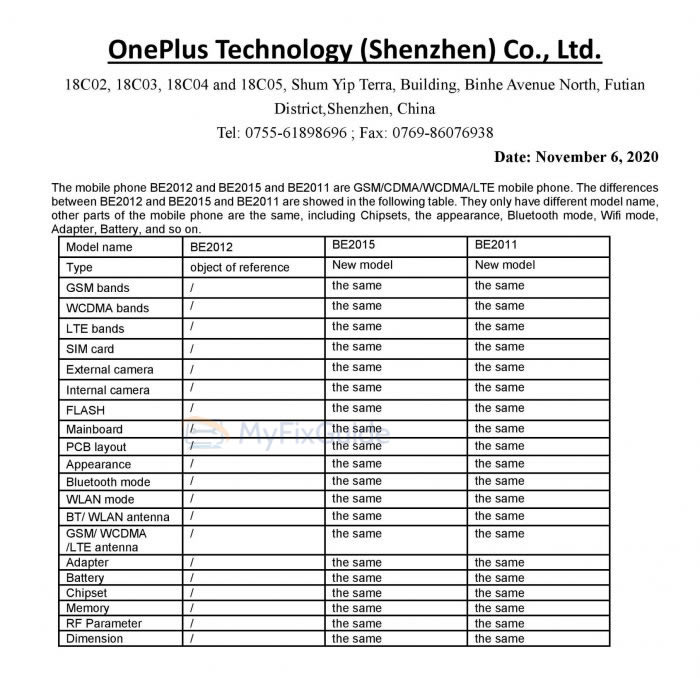 It is also found that the new OnePlus Clover will feature a battery with 4890mAh capacity. The battery has a model number: BLP813, and it also seems like the battery is unique, as it has never seen before on any OnePlus or other company smartphones.

It is not confirmed, but it also seems like the device may feature a 3.5mm headphone jack, too, as the earphones mentioned in the certification come with a 3.5mm pin.
The FCC Certification has an FCC ID: 2ABZ2-EF164, while the FCC Label consists of the model number: BE2012, which confirmed that this would be OnePlus Clover. The device was also spotted with Bluetooth 5.1 a few days ago.
It is also expected that the new OnePlus Clover would feature a 6.52 inches HD+ (1600x720p) display. The device would be powered by the latest Qualcomm's entry-level chipset, "Snapdragon 460" (11nm). The chipset consists of eight cores and has a maximum frequency of 1.8GHz.
The device won't support 5G as the chipset also got no 5G support. All these certifications point to us that the launch of the OnePlus Clover is expected soon.