Qualcomm officially announced that the 2020 Qualcomm Snapdragon Technology Summit will be held at 23:00 on December 1 and December 2, Beijing time, and will be broadcast live on Qualcomm's official website and WeChat.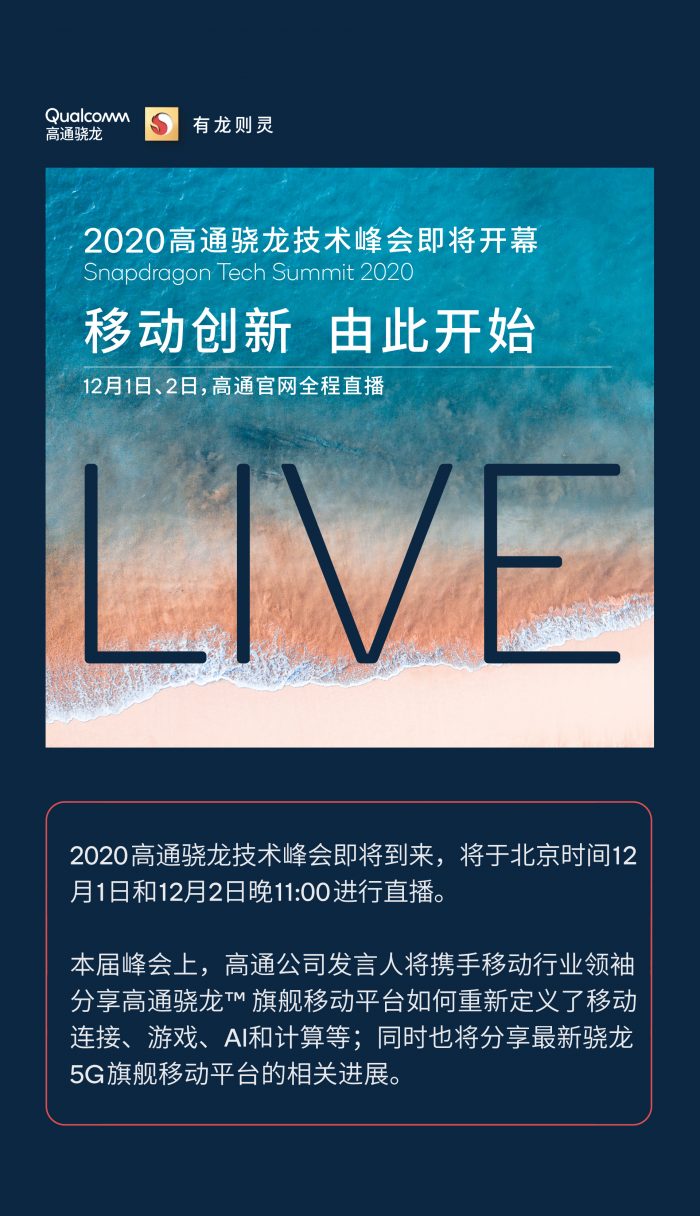 At this summit, Qualcomm will join hands with mobile industry leaders to share how Qualcomm's flagship mobile platform redefines mobile connectivity, games, AI, and computing. At the same time, it will also share the latest developments in the flagship mobile platform of Snapdragon 5G.
The host of this summit is Cristiano Amon, President of Qualcomm, Alex Katouzian, Senior Vice President and General Manager of Mobile, Computing and Infrastructure Business, Qualcomm Technologies, and Director of Product Management, Qualcomm Technologies Lekha Motiwala.
At this summit, Qualcomm will officially release a new generation of flagship mobile phone processor – Snapdragon 875, but the final name has not been confirmed. Previous exposure information shows that Qualcomm Snapdragon 875 will adopt a "1+3+4" eight-core architecture, where "1" is the super-large core Cortex X1. It is rumored that Qualcomm has reached a cooperation with Samsung this year and will OEM this top-level processor based on Samsung's 5nm EUV process.
Speakers on the first day include:
-Lei Jun, founder, chairman and CEO of Xiaomi Group:
The long-term close cooperation between Xiaomi and Qualcomm will be shared at the summit and will bring the latest product developments.
-Nicki Palmer, Chief Product Officer, Verizon:
Will discuss how Verizon accelerates the deployment of 5G through commercial millimeter wave and fixed wireless access.
-Mitsuya Kishida, President of Sony Mobile Communications:
Will share how the company promotes the development of mobile games through Xperia smartphones and the latest plans.
-Kyle Kiang, Chief Marketing Officer of OnePlus:
Will share on the topic of mobile games and introduce the cooperation between OnePlus and Epic Games to bring the best "Fortress Night" gaming experience to smartphones.
-Naoki Tani, Executive Vice President and Chief Technology Officer of NTT DOCOMO:
Will share the company's progress in 5G terminals and the role of millimeter wave and Sub-6GHz carrier aggregation in providing people with a more convenient and comfortable life.
-Clément Delangue, co-founder and CEO of Hugging Face:
Natural language processing and AI technology on the terminal side will be discussed.