This morning, the Red Magic Game Phone announced on Weibo that the Red Magic 6S Pro New Product Launch Conference will be officially held on September 6.
Judging from the official warm-up poster, the Red Magic 6S Pro will be equipped with a Qualcomm Snapdragon 888 Plus processor, a 165Hz screen, and a vertical rear three-camera and centrifugal fan.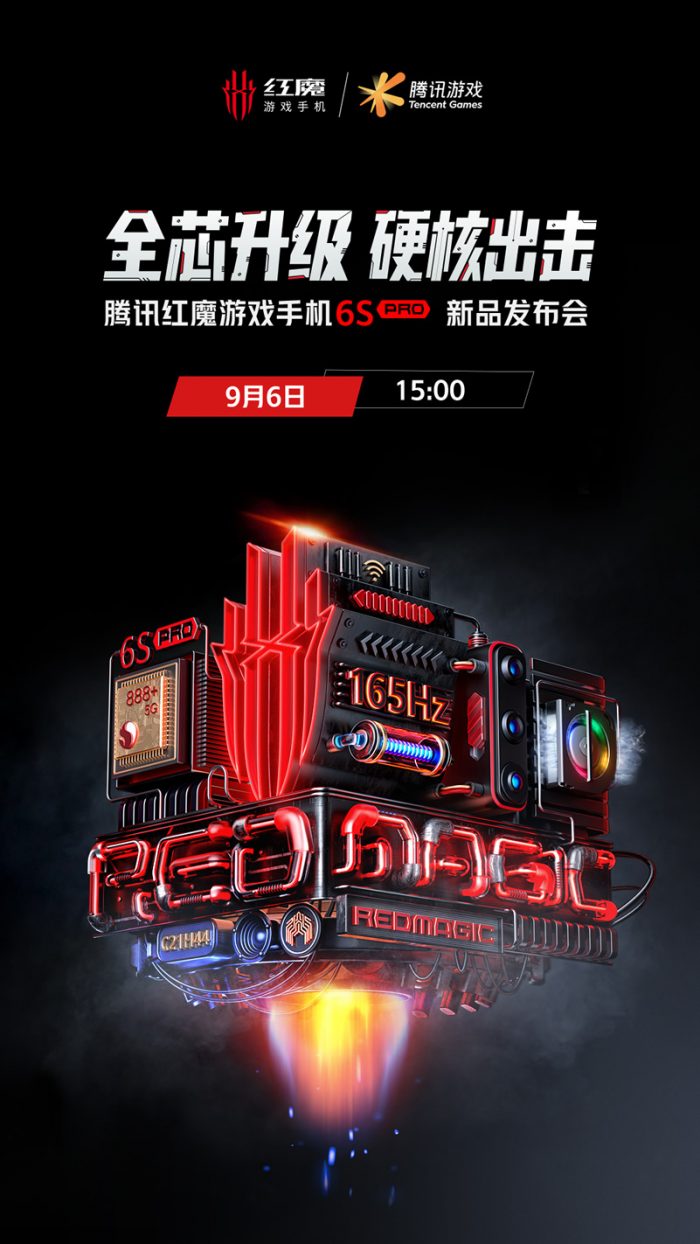 On August 19, this phone has passed the 3C certification, code-named "NX669J-S", and it will come with a 120W charger.
In March of this year, Nubia officially released a new generation of gaming mobile phones – the Red Magic 6 series, including Red Magic 6 and Red Magic 6 Pro.
The phone is equipped with a 6.8-inch AMOLED super-competitive screen, the world's first to support 165Hz refresh rate screen and single finger 500Hz and multi-finger 360Hz touch sampling rate, support 10bit color depth, 100% DCI-P3 color gamut.
It should be noted that, in order to let the Snapdragon 888 play a more extreme performance, the Red Magic 6 series is equipped with ICE6.0 multi-dimensional cooling system. The built-in fan speed of the Red Magic 6 is as high as 18,000 rpm, while the fan speed of the Red Magic 6 Pro is as high as 20,000 rpm.
The official said that although the speed is fast, the brushless motor can ensure the whole process of the game is silent, and the fan noise is only 28db.
In addition, the mobile phone uses a unique aviation aluminum-ice blade heat dissipation design with a heat dissipation area of ​​up to 18,000 square millimeters, which can reduce the CPU core temperature by 16 degrees Celsius and reduce the body's tactile temperature by more than 3 degrees.
The appearance of the upcoming Red Magic 6S Pro is expected to continue the current design of the Red Magic 6, while the heat dissipation and dual IC touch shoulder buttons will also be inherited.