Vivo is planning to launch a variety of new series for its smartphone segment. This variety of series include Vivo IQOO U series and Z series.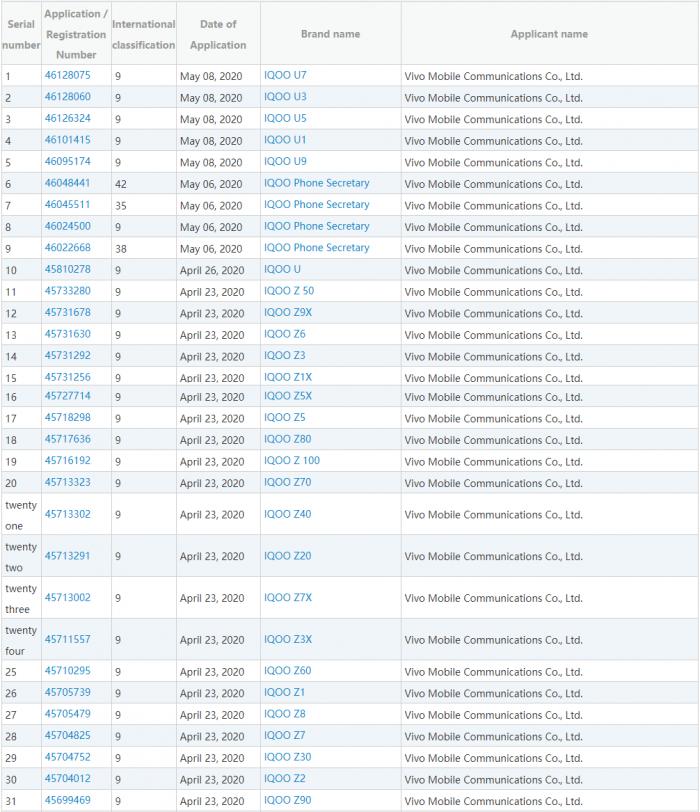 According to our reports, Vivo Mobile Communications Co., Ltd. has applied for all of those series to "International Classification of trademarks 9". As it is previously mentioned in our article, this classification of a trademark usually includes electronic computers and peripheral equipment.
Moreover, it can be seen that in the mentioned photo that the smartphones have different names but start with Z and U, which makes them part of the Vivo U and Z series. All of these applications have submitted between the 23rd of April and the 8th of May.
Vivo has already some devices in its Z series. We have a prevalent device "IQOO Z1" from the Vivo IQOO Z series. It seems like that Vivo is going to launch new flagship products in its IQOO Z series in upcoming days as this series usually includes flagship-level smartphones.
It is also reported that previously Vivo has also applied for a new "T Series" before,  but our information about this series is minimal.
As time is passing, the competition between manufacturers of 5G mobile phones is getting hard. This is the reason we might see 5G connectivity in those smartphones too. And Vivo needs to do this in order to stay in the competition.
Currently, Vivo has not announced any of these new series. But after all this, it is confirmed that Vivo is going to launch new devices in the Z and U series soon. If any more news comes regarding this, you will be updated on our website. So stay tuned!