Most probably, while buying a new laptop, a user would prefer an all-rounder notebook that would perform all his desired tasks, including some office work, some minor complex operations, and gaming. Today, the notebook we are going to review can satisfy the fundamental needs of that specific user.
Today, we will review the all-new ASUS Vivobook Pro 16X OLED, a mixture of gaming and business notebooks. With the potent combination of the latest AMD Ryzen 9 5900HX CPU and RTX 3050Ti GPU, the notebook ensures that its gaming capabilities can easily handle almost every requirement of today's games. At the same time, its slim and premium design also matches the level of a business notebook. While having a tag of OLED Display in its naming, we can also say that the laptop will not disappoint us when it comes to the display quality.
The model we have reviewed in this article is the most high-end variant (Ryzen 5900HX + RTX 3050Ti), but its pricing is currently unknown. There are several other variants with lower specs CPU from the AMD Ryzen 5000 series, and if you are low on budget, you can go for them. Further, if you prefer Intel's CPU over AMD, luckily, there is also an option for Intel's (latest 11th Generation) CPUs.
Specifications
Screen
16.0-inch, WQUXGA (3840 x 2400) 16:10 aspect ratio, OLED, 0.2ms response time, 550nits Peak Brightness, 100% DCI-P3 color gamut, 1,000,000:1, HDR Support, 1.07B display colors, PANTONE Validated, Glossy display, 70% less harmful blue light, Screen-to-body ratio: 86 %
Processor
AMD Ryzen 9 5900HX Processor 3.3GHz (16M Cache, up to 4.6GHz, 8 cores)
Wireless Connection
Wi-Fi 6(802.11ax) and Bluetooth 5.0 (Dual-band) 2×2
Graphics card
AMD Radeon Graphics, NVIDIA RTX 3050Ti Laptop GPU 4GB GDDR5, Maximum 1035MHz
Memory
Dual Channel 32GB DDR4 (2x 16GB RAM Sticks) on board, Memory Max Up to:32GB
Storage
1TB M.2 NVMe™ PCIe® 3.0 SSD
Ports
1x USB 3.2 Gen 1 Type-A
2x USB 2.0 Type-A
1x USB 3.2 Gen 1 Type-C
1x HDMI 1.4
1x 3.5mm Headphone/Microphone Jack
1x MicroSD Card Reader Slot
Battery
96Wh, 6-cell Li-Ion battery
OS
Windows 10 Home, Free Upgrade to Windows 11 (when available)
Weight
1.95 kg (4.30 lbs)
ASUS Vivobook Pro 16X OLED: Design, Appearance & Portability
We already mentioned that the new Vivobook Pro 16X OLED comes with a slim and supreme body design that lets the notebook cover the business-level notebook segment. The notebook has total dimensions of about 360.5×259×17.9mm and weighs around 1.87kg. With a thickness of just 17.9mm and 1.87kg weight, the laptop also meets the standard of good portability.
When it comes to build quality and design, the Vivobook Pro 16X OLED comes with a metal body that is not only durable and pressure-resistant but also reflects the signs of technology and fashion. The matte texture on the entire body also feels satisfying visually and more delicate in the hands. At the right of the display's shell, we have a customized CNC embossed drill-cut ASUS Vivobook logo, further integrated with a metal top cover, presenting the fine and precision cutting of metal. Further, the fonts on the logo are laser engraved with diagonal lines, which seems more noticeable.
The overall design of ASUS Vivobook Pro 16X OLED represents a beautiful industrial design and the spirit of craftsmanship.
ASUS Vivobook Pro 16X OLED: Display
The new ASUS notebook features a 16 inches 4K+ (3840*2400p) resolution Samsung E4 OLED Display. In appearance, the display got very slim bezels on both sides, but the top and bottom chin seem a bit thick only if compared with left and right bezels; otherwise, the display is fine. The slim bezels also help the notebook to have a more significant (86%) screen-to-body ratio with a 16:10 aspect ratio.

For some office tasks like doing web research or creating documents, the display brings you a more immersive large-screen visual experience. It also got some highlights like HDR support, 550nits peak brightness, 100000:1 contrast ratio. It is worth noting that the black color on this OLED display is as low as 0.0005nits.
In terms of color, the display has 100% DCI-P3, 133% sRGB color gamut, and is also certified from Pantone Color. The comprehensive quality is excellent and suitable for designers. For high-end gaming, we recommend gamers to go for an IPS display with a 144Hz high refresh rate for a more smooth gaming experience.
To properly test the screen quality, we used the Starscream Spyder5 Elite color calibration instrument to provide actual color measurement. On testing, we found that the display has 100% sRGB, 99% DCI-P3, 99% AdobeRGB, and 97% NTSC color gamut. On tone response' testing, the measured curve was almost the same as the luminosity 2.2 curve. While testing color accuracy, the maximum value of Delta was only 2.31, and the average value was 0.81. The overall testing results are more than a professional monitor (we have tested previously). So we can easily say that the display on ASUS Vivobook Pro 16X OLED features a perfect screen.
If we talk about the blue light filter, the blue wave peak of OLED screens is longer than that of traditional LCD screens, reducing 70% of harmful short-wave blue light, and achieving hardware-level anti-blue light. The display also got certification from SGS, TÜV Rheinland, and many other authoritative organizations. If compared with previous blue light filter technologies, this new formula wouldn't make the picture yellowish, and colors will be accurate and vivid, also protecting the eyes at the same time.
When it comes to the lifespan of OLED screens, the users don't need to worry about that as the OLED display from the Vivobook Pro 16X OLED comes with the latest Samsung E4 luminescent material, which not only increases the lifespan of the screen but also improves the brightness and delays the attenuation of pixel brightness.
Furthermore, the screen can smartly detect the aging of the pixels and will use different operations to restore more accurate colors on that pixel. In addition, we also got the ASUS OLED Care software, which comes with multi-protection functions like pixel refresh, pixel shift, automatic taskbar hiding, factory default dark mode, and many related functions that the user can set.
At the top display chin, a Webcam is placed, which can record at 720p (HD) resolution. In addition, there is a sliding cover (privacy shutter) that is used to cover the webcam lens when not in use. At the right of the webcam, the laptop also got the built-in dual array noise-canceling microphone. We can say that the video conferencing experience on this laptop would be fine.
ASUS Vivobook Pro 16X OLED: Keyboard and Touchpad
The new ASUS Vivobook Pro 16X OLED features a full-sized Chiclet keyboard with adjustable backlit (having three-level brightness) and a 1.35mm keystroke. This time, the keyboard has achieved higher standards for touching keys and feels more comfortable while typing. Furthermore, the color differences on control keys and ESC key also seems specific for gamers. The new cardboard design on Enter key also feels stylish and embodies the specificity of creation. It can also be seen that now the power key is placed at the right top of the keypad and seems more easily accessible while having the hand on the right side of the palm rest area. It is worth mentioning that the power key also got an integrated fingerprint sensor.

Under the keyboard, we have the 6.1 inches super-sized touchpad providing a very smooth experience; the edges are cut through CNC, making it more delicate. At the right top of the touchpad, a small circle-shaped icon can also be seen. Well, the ASUS calls it a DialPad Virtual Knob, which lets the user do more functions with a touchpad only. It allows the user to navigate through the knob menu, which will appear on touching it. The knob menu has many advantages in different scenarios, especially in office work. On the main screen, it allows the user to change everyday things like brightness level and the system's volume. While in some popular software like Microsoft Office, Adobe Photoshop, and Adobe Premiere Pro, it lets the user do different operations related to that specific software. It can let the content creator gain full benefits while working and reduce the excessive and monotonous clicking and dragging operations of the mouse during content creation.
We all know that the new Vivobook Pro 16X OLED is a very slim laptop. Despite this, the company hasn't underestimated when it comes to the term "Ports" on this notebook. The Vivobook Pro 16X OLED features a total of seven ports in which two of them are placed at the left side (including 2x USB 2.0 Type-A ports) while the other five are on the right side (includes 1x 3.5mm headphone jack, 1x Micro SD slot, 1x USB 3.2 Gen 1 Type-C port, 1x HDMI 1.4 port, 1x USB 3.2 Type-A port).
With this reasonable number of ports, we can say that the laptop doesn't need any dock station (ports extension) for an average office's task; it can easily support almost every device connection (connects through port).
ASUS Vivobook Pro 16X OLED: RAM, SSD, and Wi-Fi
The variant we have selected to review comes with a storage combination of 32GB RAM and 1TB SSD. In detailed specifications, the 32Gigs RAM is a dual-channel RAM (2x 16GB RAM modules) with a maximum 3200MHz frequency. It is worth mentioning that this RAM is manufactured by Samsung. On testing, we found that the RAM has a writing speed of 46244MB/s and a reading speed of 45063MB/s; with these results, indeed, there would be no lags in long-term use. In the model we reviewed, the RAM cannot be upgraded as the laptop supports only a maximum RAM of 32Gigs.
The laptop also comes with a powerful 1TB NVMe PCIe 3.0 SSD, manufactured by Hynix and having a model number "HFM001TD3JX013N." With total storage of 1TB, the SSD also adopts the TLC flash memory chips so there would be no compromise in performance and erasing life. For testing the SSD, we used CrystalDiskMark software in which the sequential read speed was 3583MB/s while the write speed was 3123MB/s. With these scores, we can say that the overall performance of SSD is more than satisfying.
The term "Networking" is essential for both Gaming laptops and Business laptops. The new ASUS Vivobook Pro 16X OLED comes with a combo of Wi-Fi 6 (802.11ax) and Bluetooth 5.0 (Dual-band) 2×2. Compared to previous generations, the new Wi-Fi 6 technology is three times faster in speed and having four times more network capacity with 75% lower latency (as claimed by the officials).
ASUS Vivobook Pro 16X OLED: Battery Life, Heat Dissipation
As we mentioned earlier, this notebook also lies in the Business laptop segment, so having a good battery life is mandatory. The new Vivobook Pro 16X OLED features a non-removable 96Wh 6-cell Li-ion battery for a strong battery backup. We also did a battery test in which, before starting, we fully charged the battery, set the performance mode with normal fan speed, 80% screen brightness, and the Bluetooth and Keyboard backlight were turned off. And then, we used the PCMark 10 modern office mode for testing. After running continuously for 10 hours and 15 minutes, the battery level dropped to 3%, and the laptop got power off automatically.
In addition to a 96Wh battery, the laptop also comes with a 120W AC Adapter out of the box, providing a fast charging solution. Appearance-wise, the charging adaptor is relatively thin and lightweight plus very easy to carry.
Thanks to the IceCool Plus thermal technology (as named by the company), the new Vivobook Pro 16X OLED achieves a robust heat dissipation system despite having a slim body. The notebook features a Dual Fan (with new generation Cicada Wings) cooling system with two heat pipes of thicker diameter, providing a proper heat dissipation structure. It is also revealed that the fan blades are designed with 3D curved aerodynamics and are lighter and thinner with greater air volume. The fan's speed can be set at three different modes through the MyASUS application, as per your needs.
ASUS Vivobook Pro 16X OLED: Hardware Performance
CPU
Inside the ASUS Vivobook Pro 16X OLED, the all-new Ryzen 9 5900HX CPU from AMD has been used. The CPU is based on a 7nm TSMC FinFET manufacturing process and uses Zen 3 architecture. It features 8 cores and 16 threads in which the single-core has a 3.3GHz base frequency and 4.6GHz maximum frequency. The CPU has 4MB Secondary Cache (L2) and 16MB three-level cache (L3). It is worth mentioning that Ryzen 9 5900HX supports a maximum of 64GB RAM with 4266MHz frequency, but unfortunately, the notebook is limited to only 32GB maximum RAM.
We also did some short benchmark tests, which are following:
CPU-Z: On CPU-Z, the single-core score was 615.5 points, while the multi-core score was 5865.6.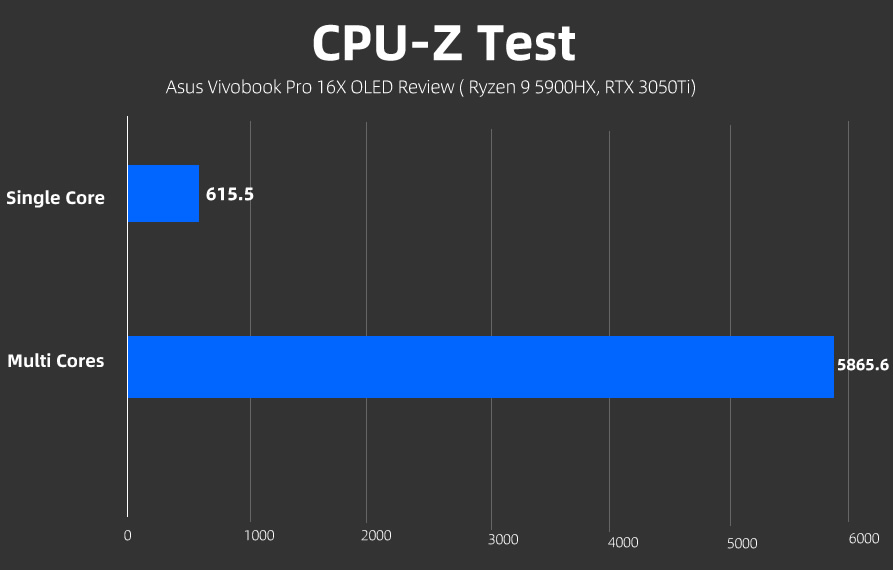 Cinebench R15: In this test, the single-core score was 236cb, and the multi-core score was 2145cb
Cinebench R20: The notebook scored 578cb on single-core and 4995cb on multi-core.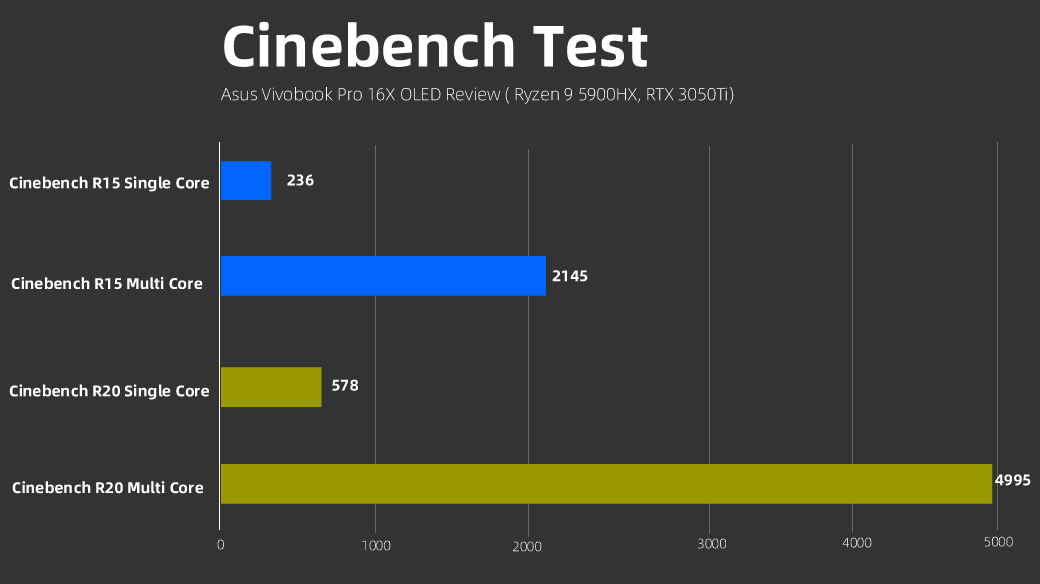 GPU Testing
The model we selected for Vivobook Pro 16X OLED review comes with RTX 3050Ti Mobile GPU, the latest GPU model from RTX 3000 series. Thanks to this solid Dedicated GPU that helps the notebook to support high-end gaming as well. In lower models, the GPU models are different. The GPU has 4 Gigs of GDDR5 Memory. Furthermore, the GPU is based on the 8nm manufacturing process and uses Nvidia's Ampere architecture.
Some of the benchmark tests of this GPU are following:
3DMark Time Spy: 4699 GPU Score, 9296 CPU Score, and 5086 Total Score
3DMark Fire Strike: 11344 GPU Score, 23310 CPU Score, and 10695 Total Score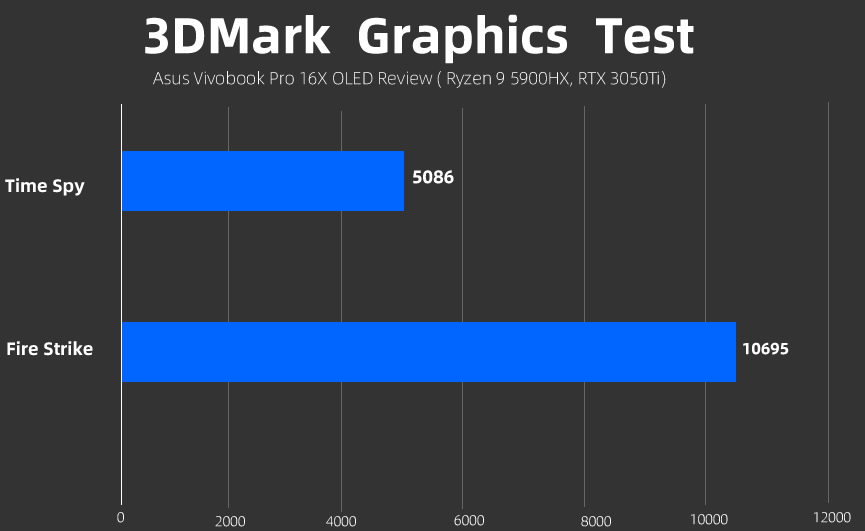 It is worth mentioning that all these benchmark tests (both CPU and GPU) were done under the following conditions: Room Temperature: 26-27°C, NVIDIA Studio graphics driver: 471.68 (30.0.14.7168), Operating system: Microsoft Windows 10 Home, Power mode: Best Performance, Fan Mode: High-efficiency mode (automatically adjust the fan speed, according to the situation).
ASUS Vivobook Pro 16X OLED: Stress Test
After doing the benchmark test, we also did a Stress test of both CPU and GPU. The conditions were the same as mentioned above.
CPU Stress Test: For stress testing the CPU, we used the AIDA64 pressure test mode. The whole testing process lasted 20 minutes, and the CPU's maximum temperature rose to 86°C while the power consumption was 54W. Overall, the CPU's performance release was strong, but the heat dissipation can also be suppressed.
CPU+GPU Stress Test: After stressing only CPU, it's time to stress both CPU and GPU. The whole testing process took 26 minutes, in which the temperature of GPU rose to 65°C, and the max power consumption was 50W. While the CPU's temperature was 80°C and the power consumption was 35W. The power consumption of the whole notebook was a bit more than 80W.
ASUS Vivobook Pro 16X OLED: Gaming Performance
With the robust specifications of Vivobook Pro 16X OLED, it can easily handle heaving games in smooth settings. For checking this, we also did a gaming test on different games, which are the following:
PUBG PC: The average FPS was around 131 (fps) on smooth settings in this game. Further, there was no lag observed while running, crawling, or switching firearms.
Overwatch: In this game, the FPS were stabilized around 72 (fps); even in the multiplayer melee mode, no lag was observed.
Battlefield 5: The average frame rates were between 40 and 50 (fps) on smooth settings in this game.
Summarize:
With the combination of solid specifications and premium slim design (1.9kg weight and 17.9mm thickness), the new ASUS Vivobook Pro 16X OLED can quickly meet the requirement of both (gamers and business persons). It is straightforward to carry on the daily commute as well. The notebook covers gaming operations and many other operations in which content creation is a major one, when it comes to performance. The collaboration of Adobe applications (Photoshop, Lightroom Classic, Premiere Pro, and After Effect) with the laptop's software and hardware (DialPad Virtual Knob) makes the content creation more flexible. The 16-inches 4K+ OLED screen of Vivobook Pro 16X OLED comes with great details, high color gamut, and a high refresh rate, which helps the notebook bring an excellent visual experience. If we talk about the specifications, the 4K OLED Display, Ryzen 9 5900HX CPU, RTX 3050Ti GPU, and 32GB+1TB Storage with an expected price of $1549, makes the laptop worth buying.