HP (Hewlett-Packard) stands out prominently as a go-to choice when contemplating the purchase of a computer. Within the expansive laptop market, HP strategically addresses the diverse needs of users through its distinct segments. Whether one identifies as a gamer or an office notebook user, HP boasts an extensive range of solutions to cater to every requirement. Noteworthy among its office notebook lineups are the renowned Pavilion series, ProBook, EliteBook, and several others. The focus of our scrutiny today is the esteemed Pavilion series, specifically the HP Pavilion Plus 16, 2023 model.
Introducing the latest entrant in the HP Pavilion series, the all-new HP Pavilion Plus 16, designed to cater to diverse user needs within a mid-range budget. The foundational model, starting at $680, is equipped with a Core i5 13th Gen CPU. Our focus today, however, is on the upgraded variant priced at $840, meticulously tailored with specifications that are enriched, precisely aligning with the demands of an office usage notebook.
The iteration of the HP Pavilion Plus 16 under consideration is driven by the robust Core i7-13700H CPU, accompanied by the integrated Intel Iris Xe GPU. Consisting of a 16-inch display, this variant elevates visual experiences with a crisp 2.5K resolution and an adaptive refresh rate spanning from 48Hz to 120Hz. This adaptive refresh rate not only ensures high-quality and smooth graphics but also contributes to power efficiency. Complementing the performance architecture, the notebook employs a combination of LPDDR5 RAM and a PCIe 4.0 x4 M.2 SSD, guaranteeing a swift and responsive user experience. All the aspects of the notebook are discussed under the specifications table.
HP Pavilion Plus 16: Specifications
Screen
40.6 cm (16.0 in) diagonal, WQXGA (2560 x 1600), 48 Hz to 120 Hz, IPS, micro-edge, antiglare, Low Blue Light, 400 nits, 100% sRGB, Variable Refresh Rate supported, TUV with Eyesafe Display for Low Blue Light, 16: 10 aspect ratio, Flicker free
Processor
Intel Core i7-13700H (up to 5.0 GHz with Intel® Turbo Boost Technology, 24 MB L3 cache, 14 cores, and 20 threads)
Wireless Connection
Intel Wi-Fi 6E AX211 (2×2) and Bluetooth 5.3 wireless card
Graphics card
Intel Iris Xe (integrated GPU)
Memory
16 GB LPDDR5x-5200 MHz RAM (onboard), Dual Channel Memory
Storage
1 TB PCIe Gen 4.0 x4 NVMe TLC M.2 Solid-State Drive, manufactured by Samsung
Camera
HP Wide Vision 5MP IR camera with temporal noise reduction and integrated dual array digital microphones
Ports

1x Thunderbolt 4 with USB Type-C 40Gbps signaling rate (USB PD, DP 1.4, HP Sleep and Charge)
1x USB Type-C 3.2 Gen 2.0 port; 10 Gbps signaling rate (USB PD, DP 1.4, HP Sleep and Charge)
1x USB 3.2 Gen 2 Type-A port; 10 Gbps signaling rate
1x USB 3.2 Gen 1 Type-A port; 5 Gbps signaling rate
1x HDMI v2.1 output port
1x Headphone/microphone combo port

Battery
4-cell, 68 Wh Li-ion polymer with 90W AC Adaptor
OS
Windows 11 Pro
Windows 11 Home
Weight
1.89kg (4.16lb)
HP Pavilion Plus 16: Body Design and Appearance
Before delving into the intricacies of its design, it's noteworthy to mention that this particular model offers users a choice between two elegant colors: Natural Silver and Warm Gold (the latter incurring an additional cost of $20). The variant under review has the sophisticated Natural Silver hue. At first glance, any seasoned HP Pavilion series user would readily identify this notebook as part of the Pavilion lineup, given its adherence to the series' distinctive aesthetics.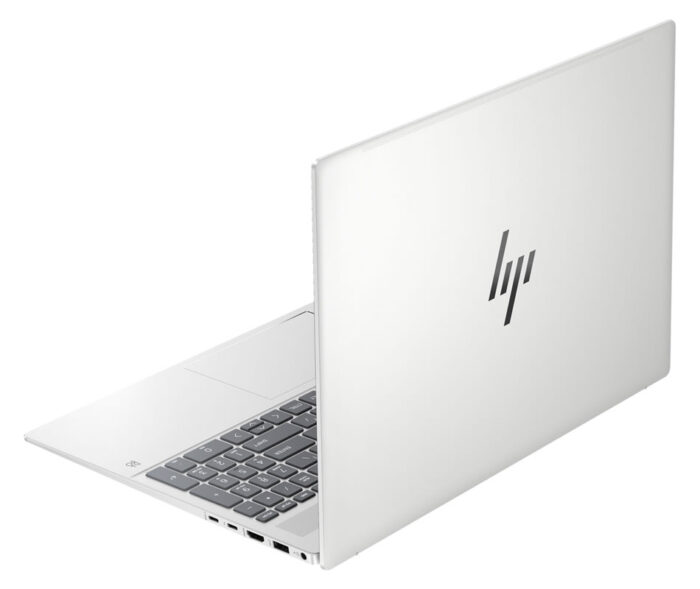 The laptop showcases a three-sided metal body design featuring narrow bezels around the display, contributing to its overall stylish appearance. The display shell is crafted from aluminum, featuring a frosted surface that not only adds a touch of sophistication but also serves the practical purpose of resisting fingerprints. Positioned prominently in the center is the avant-garde HP logo, a key element accentuating the notebook's classic design.
In terms of technical specifications, the notebook measures 357 x 253.5 x 17.7mm and weighs approximately 1.89kg. While the weight aligns with the expectations for a 16-inch laptop, the noteworthy aspect lies in its slim profile. This is a testament to HP's commendable engineering, striking an admirable balance between screen size and portability. In essence, the HP Pavilion Plus 16 impresses with its optimal blend of aesthetics and portability, making it a compelling choice for users on the move.
HP Pavilion Plus 16: Display
Regarding the display, the notebook boasts a 16-inch IPS LCD Display featuring micro-edge aesthetics and an anti-glare surface, all within a 16:10 aspect ratio. This aspect ratio, deviating from the standard 16:9 screen, enhances vertical height, catering particularly well to office tasks and creative applications. The display showcases an impressive 2.5K (2560x1600p) WQXGA resolution, delivering a visually rich experience.

Augmenting its versatility, the display incorporates VRR features (variable refresh rate), dynamically adjusting the refresh rate to meet the user's specific demands. This adaptive capability not only ensures a seamlessly smooth image quality but also contributes to power efficiency, optimizing battery performance. In terms of brightness, the display achieves a peak brightness of 400 nits. Additionally, it incorporates an anti-blue light feature, certified by TUV with Eyesafe, prioritizing the long-term well-being of the user's vision during extended usage. This meticulous amalgamation of features underscores the commitment to providing a visually immersive and health-conscious experience on the HP Pavilion Plus 16.
In our display testing, we used the Spyder X software, revealing that the Pavilion Plus 16 excels in color reproduction. The results showcased an impressive coverage of 100% sRGB, 83% AdobeRGB, and 86% DCI-P3 color gamut. Registering a maximum measured brightness of 426 nits, the Pavilion Plus 16 surpasses expectations. The average Delta E value, a measure of color accuracy, was 0.81, with a minimal deviation of 0.05 and a peak value of 2.05. When compared to previously reviewed notebooks, such as the Dell Latitude 5440 and HP ProBook 450 G10, the Pavilion 16 Plus emerges with superior display benchmarks. Notably, the high color gamut and IPS screen negate concerns about flickering or oversaturation, rendering it highly suitable for a broad spectrum of users. The Pavilion Plus 16's display performance stands as a testament to its commitment to delivering a visually refined and accurate experience.
 HP Pavilion Plus 16 Screen Test Results

sRGB
100%
Adobe RGB
83%
DCI-P3
86%
Maximum Brightness
426nits
Average Delta E
0.81
Minimum Delta E
0.05
Maximum Delta E
2.05
Situated within the display's top bezel is the HP Wide Vision 5MP IR camera module, an integral component designed to elevate the video conferencing experience on the Pavilion Plus 16. This advanced camera module supports not only temporal noise reduction, enhancing video clarity but also features dual array digital microphones, ensuring crisp and clear audio transmission during virtual meetings.
HP Pavilion Plus 16: Keyboard and TouchPad
Beneath the display, a full-sized keyboard graces the Pavilion Plus 16, offering a refined user experience. Noteworthy features include white-colored backlighting with two adjustable levels and the inclusion of a numeric keypad, a necessity for a notebook of this size. The Silver color variant boasts an exclusive soft-grey color scheme for the keyboard, while the gold variant showcases a sandstorm-grey color scheme.

The keyboard with its large keycaps, provides crisp and tactile feedback, contributing to an overall comfortable typing experience. The inclusion of a numeric keypad enhances digital input, and the generously sized font on the keys adds to their visual prominence. However, a minor drawback surfaces with the up and down arrow keys being half-height, potentially leading to inadvertent touches.
Directly beneath the keyboard lies a sleek touchpad characterized by a thoughtful design that covers a substantial area. This touchpad facilitates effortless cursor navigation, adding to the user-friendly design of the Pavilion Plus 16.
HP Pavilion Plus 16: Ports
In terms of connectivity, the HP Pavilion Plus 16 is well-appointed with a comprehensive array of ports, catering to the essential needs of an office user in their day-to-day tasks. Despite maintaining a slender profile, HP has effectively ensured an ample provision of ports, enhancing the laptop's practicality.

Commencing from the left side, there is a USB 3.2 Gen1 Type-A port supporting a 5Gbps signaling rate alongside a 3.5mm headphone jack. On the right side, a Type-C Thunderbolt 4 port is featured, alongside a USB 3.2 Gen2 Type-C port. Both Type-C ports support USB Power Delivery, DisplayPort 1.4, and HP Sleep and Charge functionalities. Additional ports on the right side include an HDMI 2.1 port, a USB 3.2 Gen2 Type-A port with a 10Gbps signaling rate, and a charging port.
The inclusion of this array of ports alleviates the need for users to carry external USB extenders, significantly enhancing the laptop's portability and convenience for professionals on the go.
HP Pavilion Plus 16: Battery and Charging
Regarding the battery, the HP Pavilion Plus 16 is equipped with a 4-cell 68WHr Li-ion polymer battery with a capacity of 8368mAh. This battery cell, previously utilized in other HP models, presents an ideal configuration for a 16-inch notebook.
Conducting a battery test using the PCMark 10 modern office test, with brightness set at 200 nits and Wi-Fi connected, yielded an impressive 12-hour battery backup. This substantiates the notebook's capability to seamlessly provide 8-10 hours of battery life in typical daily office usage. The extended battery timing can be attributed to the synergistic impact of the variable refresh rate and the energy-efficient LPDDR5X RAM module.
In terms of charging, the bundled 90W AC Adaptor is designed to charge 50% of the battery within 30 minutes, in accordance with the official claim. Noteworthy is the incorporation of the HP Sleep and Charge feature, supporting a maximum of 100W throughput for expedited charging. It's pertinent to mention that in certain regions, HP provides a 135W AC Adaptor, though the model under review was shipped with the 90W charger.
HP Pavilion Plus 16: RAM and SSD
Regarding memory, the HP Pavilion Plus 16 is exclusively offered with a 16GB Dual-Channel (2x 8GB modules) LPDDR5X memory, clocked at 5200MHz. It's important to note that the memory is soldered onto the motherboard, precluding any options for future upgrades. The memory, operating at 5200MHz due to platform support, delivers a power-saving advantage over standard LPDDR5 memory despite having an inherent capacity of 6400MHz.
In a comprehensive RAM assessment using the AIDA64 Cache and Memory Benchmark application, the results demonstrated commendable performance: 66,050 MB/s read speed, 77,282 MB/s write speed, 63,362 MB/s copy speed, and a latency rate of 88.2ns. These outcomes underscore the robust performance of the memory module.
Adjacent to the RAM, the Pavilion Plus 16 houses a substantial 1TB PCIe 4.0 x4 NVMe SSD manufactured by Samsung. Notably, the laptop is also available with a 512GB SSD option, priced $110 lower than the 1TB variant. Utilizing the CrystalDiskMark benchmark application, the SSD delivered notable scores: 3,671 MB/s Sequential Read, 3,045 MB/s Sequential Write Speed, 74 MB/s Random 4K Read, and 173 MB/s Random 4K Write Speed.
Comparatively, the benchmark scores for both RAM and SSD align favorably with those of previously reviewed notebooks within the same segment, affirming the Pavilion Plus 16's commendable performance in these key components.
HP Pavilion Plus 16: CPU and its Benchmark
Regarding the CPU configuration, the HP Pavilion Plus 16 offers two options: one powered by the Core i5-13500H and the other by the Core i7-13700H, the latter being the focus of our review. The 13th Gen Core i7-13700H boasts a total of 14 cores, comprising 6 P-Cores and 8 E-Cores, providing a substantial 20 threads. The P-Cores achieve a peak frequency of 5.0GHz, while the E-Cores peak at 3.7GHz.
Constructed on the Intel 7 Process chipset, the CPU operates with a maximum 45W TDP (Thermal Design Power). The notebook proudly bears the Intel Evo platform certification, having successfully navigated multiple workflow verification tests to guarantee an ultra-thin and lightweight user experience.
On the GPU front, the CPU integrates an Intel Iris Xe built-in GPU. However, it's noteworthy that the manufacturer offers an alternative with the inclusion of the RTX 3050 Mobile GPU, albeit at an additional cost of $100. The model under review solely relies on the CPU's integrated graphics.
Additionally, a brief benchmark test of the CPU was conducted, the results of which will be expounded upon below.
Cinebench R23: 1,868pts on Single-Core and 15,196pts on Multi-Core
3DMark TimeSpy: 2,082 Total Score including 11,206 CPU Score and 1,806 GPU Score
HP Pavilion Plus 16: Heat Dissipation and Stress Testing
During the disassembly of the notebook, a standout feature is the sophisticated heat dissipation system. Comprising a dual heat pipe and dual cooling fan setup, this system closely mirrors the design found in the smaller version of the notebook, the HP Pavilion Plus 14, with the notable distinction of having slightly larger fan sizes.
CPU Stress Testing: For CPU stress testing, the AIDA64 FPU Stress Test was employed. Preceding the test, performance mode was activated through myHP, Windows Power mode was optimized for peak performance, and the room temperature was maintained at 24.2°C. Throughout the trial, the CPU exhibited a peak power consumption of 64W, eventually stabilizing at 45W, with the CPU core temperature plateauing around 86°C.
Notably, even under full load, the fan speed was judiciously controlled at a low level, showcasing a commendably quiet noise profile when compared to standard-voltage processor thin and light notebooks previously assessed. Following an extended duration of complete load testing, surface temperatures were examined. The highest recorded temperature, approximately 45°C, was observed around the numeric pad area. Simultaneously, the maximum temperature of the keycaps reached 42°C. This effective temperature control underscores the notebook's thermal management prowess. Unlocking fan speed potential could potentially accommodate higher performance thresholds, such as 55W or beyond, without introducing significant thermal challenges.
Summary:
Priced at $840, the HP Pavilion Plus 16 (2023) stands out as an appealing mid-range laptop, catering to diverse user needs with its Core i7-13700H CPU and integrated Intel Iris Xe GPU. This office-centric notebook features a 16-inch display with a 2.5K resolution and adaptive refresh rates, ensuring a visually immersive experience while prioritizing power efficiency. The Pavilion Plus 16 maintains the Pavilion series' signature design with a three-sided metal body, narrow bezels, and an aluminum display shell, available in Natural Silver or Warm Gold. Despite its substantial 1.89kg weight and 17.7mm thickness, the laptop strikes an admirable balance between portability and screen real estate. Connectivity is robust with Thunderbolt 4, USB 3.2 Gen2, HDMI 2.1, and efficient fast-charging capabilities. Under the hood, 16GB of LPDDR5X RAM and a 1TB PCIe 4.0 x4 NVMe SSD contribute to a responsive user experience. With an efficient heat dissipation system and commendable battery performance, the HP Pavilion Plus 16 offers a well-rounded and performant solution for professional use at a competitive price point.