Last year, it was expected that  Oppo would be the world's first brand to manufacture "under-screen camera phone." Moreover, they also released a teaser of that smartphone too. But still, that phone is unannounced. But new reports confirmed that another company is going to be the first in this race.
Today, ZTE has officially announced that they are going to launch the world's first under-screen camera smartphone. This morning, the president of ZTE "Ni Fei" has confirmed this on his official Weibo account. The Weibo post is posted using the same under-screen camera phone "ZTE A20 5G".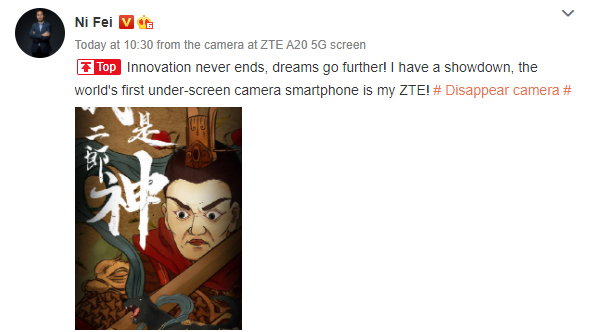 Moreover, the new model "ZTE A20 5G" also obtained network access permission with a model number "ZTE A2121".

Some reports also confirmed that Visionox might provide this solution. This company has already announced the world's first mass-produced under-screen camera technology, which achieves a pure full-screen form with no bangs and no digging holes on the front. No lifting structure is required, which effectively reduces the weight of the body.
This solution uses new transparent OLED devices, new drive circuits and pixel structures, and high-transparency new materials. Through the optimization of special pixel arrangement, the brightness difference, color gamut difference, and viewing angle difference between the transparent secondary screen and the main screen are eliminated, and batch delivery is realized.
The new ZTE A20 5G is expected to launch in late August or at the start of September.