We all know that the expected launch time of the Galaxy S22 flagship series is not that much far. The leaks and rumors regarding the Galaxy S22 series are continuously coming. Previously, we already revealed the battery capacities of all models in the Galaxy S22 series.
This evening, the Chinese blogger @IceUniverse (mainly known for his Samsung leaks) has revealed the camera specifications of Samsung's upcoming Galaxy S22 Ultra. According to the blogger, the new Galaxy S22 Ultra will have the same number of the camera (as in previous models).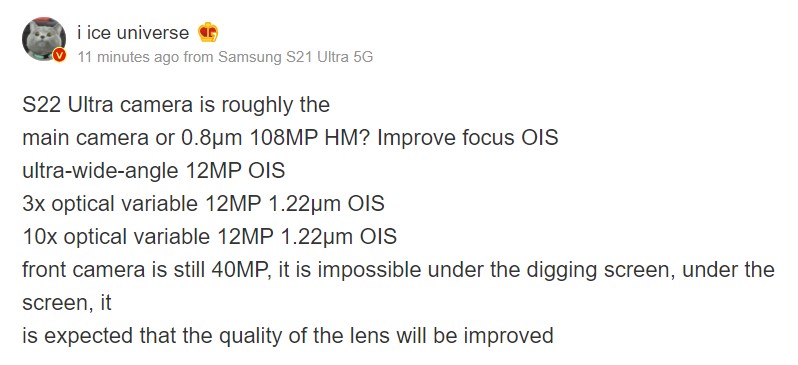 The new Galaxy S22 Ultra will feature a 108MP (3rd Generation) primary lens with a 0.8μm sensor size. This time, OIS and Lens Focus will be improved. The Ultra-Wide lens is still a 12MP sensor with OIS support. In contrast, a significant change has been seen in the periscopic lenses.
Both periscopic lenses will feature a 12MP sensor instead of a 10MP sensor (as in Galaxy S21 Ultra). The zooming capability would be the same, which is 3x optical zoom and 10x optical zoom, respectively. It is also observed that sensor size is also the same (1.22μm) with OIS Support.
On the front side, the lens would be the same 40MP sensor with improved quality. The blogger further mentioned that it would be placed in a punch-hole, with no chance for being an under-display camera.
We already reported some key specifications of the Galaxy S22 series, which can be seen in our previous articles.